Extra-oar-dinary athlete: Student commits to SMU rowing
At the beginning of high school, senior Skyler Headrick didn't know the first thing about rowing. She wouldn't be able to tell you the first thing about boats or oars, the whole topic nothing but a completely foreign language to her. Yet, now, Headrick can finally say that she is fluent, earning herself the opportunity to row D1 crew team at Southern Methodist University in Dallas next year. 
"At a young age I did all of the sports." Headrick said. "When I was younger I did track, swimming, and gymnastics, but none of them really stuck with me." 
Before rowing, Headrick was involved in both tennis and golf on campus, however, the pandemic made her question whether she was passionate about these activities and wanted to continue. 
"I quit tennis my sophomore year, I just never enjoyed it and after COVID I didn't want to go back, I kind of lost interest." Headrick said. 
In the summer of 2021 before entering junior year, Headrick discovered rowing and although she stuck with the sport, it wasn't love at first sight. 
"I initially didn't want to do it [rowing]," Headrick said. "It was a huge adjustment for me and I didn't feel like I was good at it."
Headrick recalls her mother forcing her to sign up for the competitive season. After the summer, she began her novice year at the Austin Rowing Club and was able to excel in the environment despite her initial reservations. 
"Skyler started as a novice and moved up to varsity in April of her novice year," Austin Rowing Club varsity girl's head coach Astrid Wettstein said. "She was doing really well and there was an opportunity for her to step up and row with Varsity in the spring."
Headrick raced in the Varsity Women's U19 4- in the spring and was able to find success in the boat, placing second at Texas Rowing Championships and third at Central Youth Regionals in Oklahoma City. The result in Oklahoma ultimately qualified the boat a spot in the youth national competition. 
"She was a really important part of making the four and I've seen her develop not only as an athlete in the past year, but also as a leader." Wettstein said.
In June of 2022, Skyler and her boat traveled to Sarasota, FL to compete at the national level against crews all over the country. Headrick was able to accomplish all of this within her first year of the sport.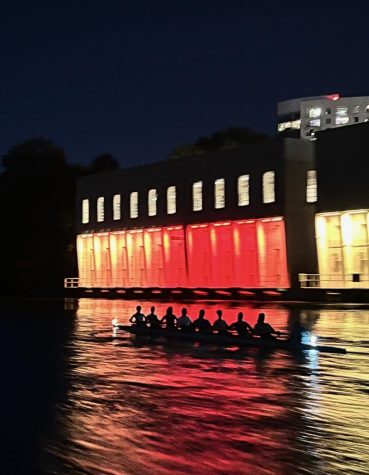 "Skyler is very focused and determined, when she sets a goal for herself, she goes out of her way to achieve it." Wettstein said. 
In such a short period of time, Headrick's life and priorities began to change. Going from the eased lifestyle of the pandemic to the high pressure schedule of balancing classes and six practices a week. 
"Some days are a lot easier than others and some days I really have to push myself." Headrick said. "Sometimes you're just tired and other times you feel like all of your work isn't paying off." 
In the long run, Headrick's hard work did pay off. In November of last year, Headrick committed to row D1 crew at Southern Methodist University for college, a decision that made her extremely happy. 
"I knew I wanted to go into business and row." Headrick said. "SMU has an amazing business school and when they offered me the ability to row there as well, I was so happy."