Alum on tour with indie artist Noah Kahan
Noah Levine ('21) on playing guitar on the 'Stick Season' tour
Two years ago Noah Levine graduated in 2021 and moved on to attend the Berklee College of Music. This was a much awaited announcement from his family and friends who knew his passion for making music. Noah Levine was an active member of the VHS Band, and a drum major; he also created his own music on Spotify as Noah in the Open. Now he's touring with Noah Kahan's 'Stick Season' tour all across North America. Kahan's folk-infused pop music has been on the up and up since his release of the 'Stick Season' album. Much had changed after he moved from Austin to Boston.
"I loved Berklee, the community was incredible." Levine said. "Berklee doesn't hand you a career though, it will give you the resources to work for it."
That's just what Levine did. When Noah was producing his own music in high school he worked with producer Gabe Simon and kept in contact with him over the years. Levine persistently asked him if he needed a summer intern in the summer of 2022.
"I liked watching him work. He didn't even have to pay me, I just wanted to be in the room." Levine said. "I'll bring you coffee, take out the trash, whatever you need. I just want to be there."
That summer, Simon happened to be working on recording the stick season album with Noah Kahan in Nashville. Kahan had been finishing up the last final songs when Simon had Levine play guitar on 'Homesick', one of the songs on the album. When Levine returned to school, he soon got a call from Simon about joining Kahan's tour.
He said 'he asked for you', and I'd have to drop out of school." Levine said. "And I had to decide by tomorrow. I thought, 'Oh my God'. I called him back in 10 minutes."
Levine's parents were supportive of his choice, they were the only call he made in his ten minute decision. Levine is currently in Denver, CO, for the second leg of the 'Stick Season Tour'.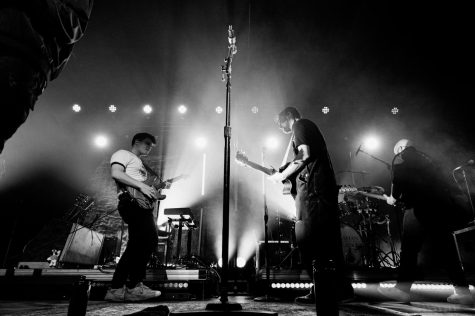 "We roll into a new city early in the morning, set up before lunch." Levine said. "Soundcheck, at four, more free time, then play the show at nine and get on the bus, sleep and do it all over again."
Touring to over a dozen cities across the US, Levine now has a fair share of nonstop travel experience. The best shows are always defined by the energy the crowd has before, during, and even at the end of a show.
"If you're in a show, and everyone is just standing there, not super into it; you can bet that you are not one of the good stops." Levine said.
The band did something different while on tour in the fall, getting the chance to play on live television shows like the 'Today Show' and 'Jimmy Kimmel Live!'. Although both live TV appearances, they were very different from each other. 
"We were all exhausted by that point, it was the seventh week of tour." Levine said. "We rolled up in the afternoon, did sound check and just played Stick Season."
Luckily Kimmel only scheduled for one song, and had a small live audience. The Today Show was a little more taxing for the group. The arrival time was set for about 4 a.m.
"We set up and had to play all these high-energy songs at like 7 a.m. so it was a lot." Levine said. "It's always fun afterward, getting text messages from friends and family saying they saw you on TV."
Despite the early wake-up call, the hair and makeup team of the Today Show fixed them up and make them camera ready for a wonderful performance in the iconic studio.
"I got some really hilarious photos of [Al Roker]." Levine said. "I got to meet him, he's super nice."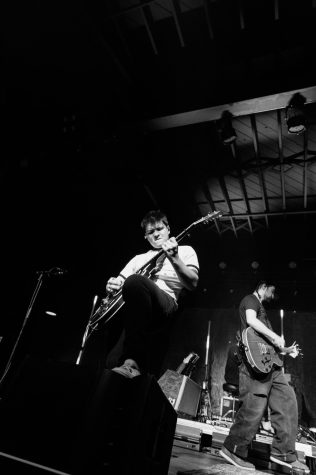 The band will have a small break until their next show on Mar. 20 in Normal, IL. That doesn't mean Levine is taking a break from playing though. He's playing his own music on Mar. 14 at The Middle East in Cambridge, Mass. It will feature opener and friend, Jojomber, and some other musical friends of Levine.
"My friend Arthur Kaplan, I've made music with him for years." Levine said. "He's going to come and join for a couple songs and then there's one last guest I don't want to spoil; so use your imagination."
After the first day of touring, Levine had a show in Boston different from any other performance he'd had before. For a long time it had been friends and supporters of his career, not necessarily fans that had found his music and sought him out. 
"I had released a song, maybe two weeks prior to playing that show. And I started to sing it and every single person was singing the words back." Levine said. "Every single word and I've never had that happen before. It was pretty special to me."
Levine says a year ago he never would have predicted any of this, the tours, the cities, the roaring crowds. Right now, the biggest thing is moving forward, and letting that take him where it may.
"I want to be progressing further as an artist, but I love this family with Noah Kahan." Levine said. "I want to be riding this as long as possible. I love music, as long as I'm doing it; I'm happy."