Hit, run, score, repeat
Seniors share feelings about final baseball season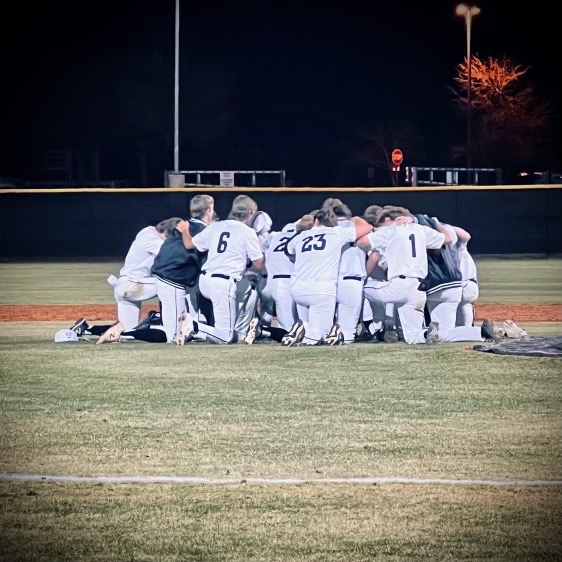 Their cleats digging into the red dirt, kicking up dirt as they run to home base. The sweat and hours have prepared them for this moment: score the winning point. 
The Varsity Boys' Baseball season has begun. With a new head coach, the boys have seen a lot of changes to the program, and they believe the team looks more polished compared to previous years. During the 2020 season, senior pitcher Daniel Farrow said that COVID-19 may have postponed the "Dream Team," but he now believes they're ready than ever to get back on the field this year. 
"We had such a good squad," Farrow said. "Everything was very solid; we were a 'well-oiled machine,' and we were killing people in our tournaments and our scrimmages. We were doing great, but they shut down the season and [I] never got to play with those guys, which was horrible." 
Senior Landon Thomason said he feels good about this season and is excited to play for his dad during his senior year of baseball. He also said he loves the teammates he plays with because they make it really enjoyable.
"I have played baseball for as long as I can remember," Thomason said. "It was one of my first sports and I could not imagine not playing it in high school. I'm excited about this year, but I also have mixed emotions about not playing next year. Even though I'll be doing something I love in college, I'll also miss baseball."
Senior Asher Muller also said that this season is going to be full of mixed emotions. Muller said that knowing his high school career is ending soon has motivated him and his fellow seniors to try and perform to the best of their abilities.
"I have a bittersweet feeling about this season," Muller said. "I have really enjoyed getting to play baseball all my life, however it's sad to know that I will never get to play competitively again beyond this season, but exciting because it's one final ride to try and bring back a district championship to VHS."
Farrow's relationship with the game is also mixed. While he said he loves the game and hates failure, he believes that in baseball, you're supposed to fail. 
"I'm one of those people who's hyper competitive," Farrow said. "I hate to fail, and going out there and being able to give it my all in a sport and succeed and basically not beat the other team but beat the game really motivates me."
To hone in on his baseball training, Thomason said that he works on certain things that will help him get better at the sport and would spend anywhere from two to four hours a day practicing baseball, depending on how much time he gets on the field. 
"I play third base and I catch," Thomason said. "I love playing those positions because they are super difficult and it takes a lot of time and effort to get good at it, so I like the challenge."
The team practiced the entire fall semester to improve themselves as players. They've also had opportunities to utilize new technology that the program has purchased, which helps hone the details of swings, throws and glove work.
"I was drawn by the chance to represent my school and play for something bigger than myself," Muller said. "I am motivated by my love for the game and the chance to make a run in the playoffs with some good friends and teammates."
Farrow has been given the opportunity to play college baseball through a full ride, however senior nights and the last game of the season will mean a lot to him because baseball gave him a family when he needed one.
"Every time we break out on the field it's, '1, 2, 3, family,'" Farrow said. "It's our thing and it really is true to me in that way. It's a very meaningful and fun year, but it'll be a little sad when it's over."