Swim places at UIL regional and state meets
They were nervous, to say the least, but there were feelings of excitement. They had done everything they could to prepare for this moment: long practices, invitational meets and even land training. Finally, the swim team had reached the peak of their season.
"Leading up to regionals, I was happy and ready to go," sophomore Daniel Bishop said. "Even though I was unrested and unshaved."
Bishop advanced from regionals on to the state meet in the 4×50 freestyle relay, and the 4×100 freestyle relay. To stay mentally prepared, Bishop tried to focus on other things, like frequently reminding himself of all the hard work that led to this result. 
"Before my events, I am usually super nervous if I'm being honest," Bishop said. "It's really hard to not get super worried when you're behind those blocks." 
At state, Bishop was feeling strangely relaxed, but he said he quickly amped up as he approached his race time. 
"Then, it was my time to swim," Bishop said. "And as soon as you hit the water, all your nervousness goes away."
Bishop wasn't the only underclassmen at state this year; freshman Aaron Gordon placed at regionals and state.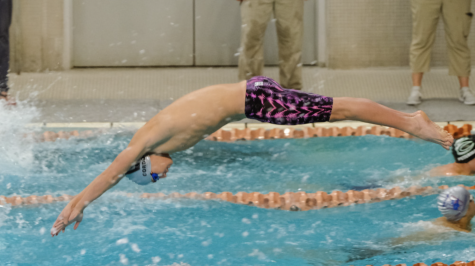 "The top two people in each event got to move on to state," Gordon said. "So I felt that there was a lot of pressure to perform well since I was seeded to make it to state."
Gordon said he felt immense pressure leading up to both meets.  He said that the high expectations placed on him acted as a benefit to his mindset, but also increased his anxiety before his races.
"I usually talk with a few friends about something unrelated to swimming," Gordon said. "This clears my head from the expectations that I put on myself before my race, which usually keeps me calm, and reminds me that I swim for the love of the sport."
Gordon thought it was not only a good season for him to improve as a swimmer, but also as a teammate.
"I took away so many things from this season," Gordon said. "I learned about the importance of teamwork and how to work better in a team." 
Junior Abigail Naden said she worked hard for the team by accomplishing a big feat: placing 5th in the 200 freestyle and 2nd in the 100 freestyle events at state.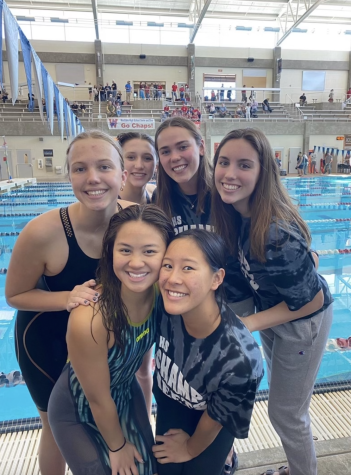 "I was mainly nervous and excited." Naden said. " But, once you get your first race out of the way, the nerves sort of go away and you really focus on the fun once you start racing fast."
To keep her head in the game, Naden reminded herself of all her hard work, and that it's an accomplishment to make it to state no matter what the outcome is. 
"Focusing on not overthinking and letting my nerves take over is the main way I stay calm before events," Naden said. 
Naden placed 12th in the state in the 200 freestyle and 5th in the state in the 100 freestyle. Though the events leading up to both meets were full of typical nerves, Naden said she came to the "melancholic" realization that this would be her second to last season on the team.
"I sound so cliche when I say this," Naden said. "But it really does go by super fast; I can't believe I only have one more season left."
However, the swimmers feel that they must thank their coach for his support throughout the season.
"Coach Jason came in as a new swim coach this year," Naden said. "And he has shaped this team to be a more positive and happy environment."
Head coach Jason Schmidt has made an impact on the team, according to his athletes, but swimmers like Gordon also feel the need to thank their parents for their support as well.
"I would like to thank my parents for always supporting me and my dreams," Gordon said. "And Coach Jason for always having my best interests in mind."