Holiday Traditions: Tamale making
Mid-December is very smelly for me. Meat, masa spices, and chicken broth are my new main carbon emissions for the month. 
Around the end of November my dad typically makes a trip to San Antonio for the "best" tamale ingredients. The masa, mainly.
Despite Austin's rich Mexican food culture, no one can beat the Del Rio Tortilla Factory's yellow and lard-rich texture for masa. HEB's masa attempt leaves a bland taste with much to be desired by the consumer, a 'shameful' spinoff, according to my family. 
The crockpots are dusted off, the water is boiled, pork is pulled, and masa is rolled the night prior with the help of some of my mom's friends in the neighborhood. My brother cooks the meat over the stove, and my dad cleans the corn husks. I am conveniently documenting the process from afar. Skillfully avoiding doing actual manual labor.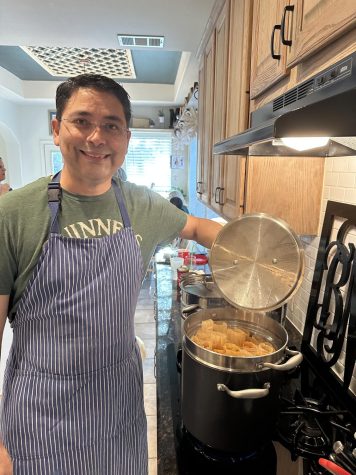 The next morning starts at 8 a.m. sharp for my mother. While I sleep until 10 a.m., she wakes up to the smell of pulled and cooked meat, ties up her hair, and dons her plaid apron for the day. My dad starts washing the corn husks in the sink and laying them out to dry on paper towels to make sure the masa will stick to the walls of the husk. 
My mom sends me to the store for snacks for her workers. I get four bags of ice, two bags of tortilla chips, and a large jar of salsa. Around 1 p.m. the fleet arrives with bottles of wine in tow. My mom's tennis friends, coworkers, and neighbors all buckle down for about four hours spreading masa, packing the boiling pots, and rolling the tamales in an assembly line process.
For hours the women, plus my 'clocked-in' dad, take shifts in the kitchen and taking breaks; all the while catching up over wine, cheese, and salsa. It's a laid back atmosphere, and the warm kitchen sets me at ease. We discuss my college process and future career, still undecided. Soon the first batches are done, and a wave of people want a first taste.
When I'm able to snatch a finished tamale off the foil wrapping plate my mouth waters. Just like last year, the tamales are a hit. The masa isn't too thick or too thin, and the meat isn't too spiced or too bland, it's perfect. Everyone goes home with half a dozen each. The annual tradition isn't just to divide the work, but also to make sure my brother and I understand the importance of our special traditions, and how it brings the people we care about together. 
Happy Holidays!