How my first mission trip taught me sustainable service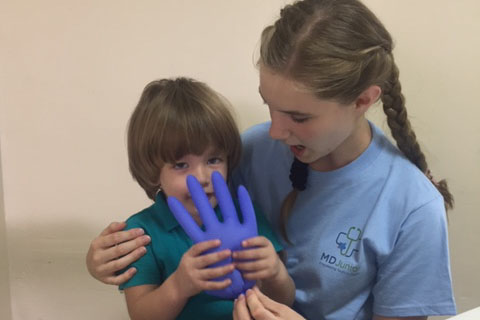 Flying out of the Atlanta airport with 20 or so strangers on the way to Puerto Rico to serve a community called Utuado was nerve wracking until we broke through the clouds above the San Juan airport, and I caught glimpses of the ocean, the winding roads and the graveyards from Hurricane Maria. I was overtaken with the sense this was going to be an experience I would never forget, one that would challenge my outlook on the world and how I approach my life.
Utuado is one of the larger communities in Puerto Rico, but despite the space it spans, it seems forgotten by the government. I went on a medical mission trip with MDJunior in late July to help the people of Utuado after Hurricane Maria and create sustainable agricultural practices in addition to kick-starting a free local clinic. I wanted to go on a mission trip that was non-religious, one that would take me somewhere new and different, somewhere I was needed. So, I jumped at the opportunity to be involved in MDJunior's Puerto Rico mission as a student and field reporter.
"
It was heartwarming to catch the connections being made between the patients and our team on my camera."
— Katie McClellan
I was looking forward to the opportunity to take pictures in a place that was not just geographically different, but also culturally different from where I live. As the field reporter, I was able to capture images of students working with children in the area, building water filtration systems, leading clinic work and more. It was heartwarming to catch the connections being made between the patients and our team on my camera. I got to photograph our group connecting across so many barriers, seeing the looks on their faces when we could change their lives, even in such a small way.
Learning more about the medical field and observing the doctors in action helped me to see what it's really like to cross language and privilege barriers to help someone. I wanted to learn how to help people in a hands-on way, and I did. All of the students were given the opportunity to sit in on consultations with the doctors who came on the mission and observe the treatment process from beginning to end. My consultation was with Dr. Baz, who is fluent in Spanish, which meant I listened to her communicate to her patient and tried to translate the information she was receiving and put it in the patient's file.
I met 4-year-old Carmelo when he came in for a checkup with his mother and siblings. He immediately became fascinated with the stickers we had brought on the mission. He came up to me every so often and asked for more "estrellas," and I began to notice that he never kept them. This boy, whose life at 4 is already 10 times harder than mine, was giving away his stars to his siblings, his mother, the doctors and my fellow students. 
Meeting Carmelo and observing how selfless he was made me think about how I need to be doing that in my life. I want to become an active participant in helping people around the world. Being an active server means going the extra mile to help someone who needs it, not because it's your job, but because they need you. I encourage you all to do this in your life with your friends and family, but most of all with people you don't know. 
After this mission trip, I definitely have a new perspective on service. We have to focus on creating a sustainable model for outreach work that promotes teaching people how to help themselves and showing them it's possible to get where they want to be. The goal is eventually, the people we've helped won't need us. I went into the mission with the mindset that we were helping people help themselves by implementing this sustainable mission portfolio, a portfolio that highlights returning projects, agricultural independence and free all-access clinics. 
It's important to make sure that your service not only impacts people, but that it lasts. So the next time you find yourself trying to get your service hours for PALS or NHS, remember to stop and ask "can I come back?" because most likely the answer will be yes. I'm hoping I'll be able to implement this sustainability in service model here at Vandegrift through PALS, and I don't let the quantity of service overshadow the quality.