Sophomore to compete at world barefoot competition
Hang on for a minute...we're trying to find some more stories you might like.
Samantha Eaton is no ordinary sophomore. Ordinary sophomores don't compete at a global level in barefoot waterskiing.
Eaton has spent her teenage years traveling around the country to train at different lakes and conditioning centers to better improve her skills in the water. Last year, Eaton spent three months over the summer living in Florida and training at the World Barefoot Center located in Winter Haven. After she participated at a national competition, she moved to Austin for a new experience and to train one-on-one with her coach.
"I won't see my family for three more months," Eaton said. "I thought it would be weird to live with my coach, but it's not. It's just kind of weird to not have my mom and sister here."
After seven years of participating in barefoot skiing competitions, Eaton will compete this year at the World Barefoot Water Ski Championship on Aug. 12, in Ontario, Canada.
"I'm nervous, but I'm excited," Eaton said. "There's a lot more people competing in my age group this year, so I'm really anxious and ready to step up my competition."
Eaton trains everyday, before and after school. Waking up at 5 a.m. every weekday and 7:30 a.m. on weekends, Eaton constantly works in and out of the water to perfect her skill.
"Every morning I wake up, put my suit on, and head out to the boat," Eaton said. "I get the boat ready, put all the handles in and then my coach normally comes out ten minutes later. We usually talk about what I'm going to be doing for the morning because everyday it's something different, and then we go ski."
Eaton began waterskiing ten years ago in her home state of Wisconsin. She competed on a show ski team with her aunts and cousins, where her uncles were the boat drivers.
"There were a few barefooting acts in the show, but a lot of the girls stuck to slower kinds of skiing," Eaton said. "That just wasn't working for me, so I started barefooting."
About the Writer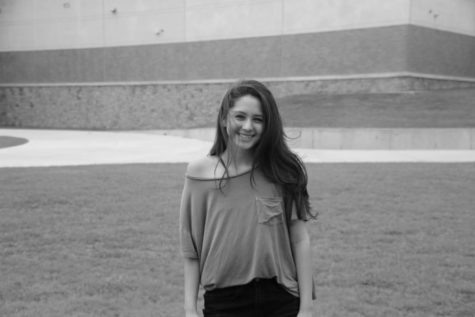 Lily Beth Kerr, Staff Reporter
Lily Beth Kerr is a junior and this is her first year on staff. She participates in Key Club, Yearbook and National Honor Society. She is also a member of the track and cross country teams. She aspires to be a photographer and wants to attend the University of Colorado at Boulder.