Baseball goes 2-1 in Leander Tournament
The varsity boys baseball team participated in the Leander ISD baseball tournament and went 2-1.
"It felt pretty good," senior Noah Mader said. "The competition was a lot more competitive than the last competitive so going 2-1 was definitely satisfying. Unfortunately, our games got cancelled on Saturday and hopefully we could've gone 4-1 but 2-1 will do."
The team played very well throughout the tournament and did many things that helped them get those 2 wins.
"We played together as a team and we woke up our bats," senior Brady Lowe said. "We tried to put the ball in play and let their defense work and it really helped us out."
Before the tournament, the team came in undefeated.
"It felt great," sophomore Peyton Klam said. "During the tournament, everything was clicking, everyone was on the same page, we were all just encouraging each other and we never got down or upset at our teammates. Coach just tolds us on that Sunday night to celebrate just because this has never been done before at Vandegrift to start off undefeated, but on Monday, we tried to forget about it. Going into this week, we have a district game so we're just trying to go in 0-0, we don't want our heads to get too big after a good start."
Before playing, the Vipers found out their tournament opponents and how good they were.
"I don't really know a lot about some of the teams but we've already played Hutto and they were pretty salty and it's going to be a really good game on Friday morning," Klam said. "Then, we have a district game vs Leander and that's what we're preparing for this week, just cause we don't want to start off district with a loss. Then we play Rouse and they're a pretty good squad so we're just getting prepared for the teams and they're not bad."
Part of the tournament involves the Vipers playing a district game.
"I'm looking forward to that district game," Klam said. "It's the most important game of the whole tournament so we all have to be on the right mindset."
As an individual, Klam plans to contribute to the team as much as he can so the team can win games throughout the tournament and continue to stay undefeated.
"I'm just trying to do as much as I can," Klam said. "I'm not trying to do that much. I'm just trying to just trying to stay confident and relaxed and staying after practice to get some more reps in, which I do every single day after practice."
The team has a lot of chemistry within one another and it should help them stay undefeated throughout the season and tournament.
"I think that's why we've started off as good as we did," Klam said. "We went out to a team dinner before our first game of the tournament so if we can just keep our bond with each other and keep pushing each other to work hard, then it should be a great season."
The first game was against Granbury and the Vipers lost 8-2. After the game, McGee told them to forget about the loss.
"It was a completely different day," Lowe said. "After the game, we got ourselves together. Overall, it was a pretty bad game, we weren't all there that game so the next day we made sure that we came back there and really bounced and got that win for our first district game."
After the loss to Granbury, the Vipers bounced back to win two games in a row.
"Granbury was a tough one," Mader said. "We bounced back and let it go behind us and know that's one loss, hopefully if not many but more losses that'll come and focus on winning out in the tournament and focus on playing Leander in the tournament the next day."
The first win for the Vipers was against Hutto 4-2. In the game, Lowe contributed to the team with 2 RBI.
"That actually felt great," Lowe said. "That was my first varsity hit so it felt really to go out there and get those 2 RBI's."
After the game, the team was all hyped up and McGee said it was a good start.
"He said it was a good start of the day and we need to keep that same intensity for Leander," Lowe said.
The second win was against Leander 11-0, which was the first district game for the Vipers.
"That felt great," Klam said. "For the first district game of the season to win 11-0, that gives us a lot of confidence going into district play this week and we feel more ready than ever to take on Westlake."
In the game, Klam contributed to the team with 1 RBI.
"That felt pretty good," Klam said. "I haven't been hitting well lately so to get that hit felt pretty good. It also boosts up my confidence a little bit."
Also in the game, Mader contributed to the game by scoring the RBI that Klam hit.
"It felt good," Mader said. "I like hitting in front of Peyton, getting on base and he gets to hit me in all the time."
The Vipers wanted to start district strong and their win over Leander was big for them.
"That felt great," Lowe said. "It was our first district game and it was a really good job on our team to go out there and start the season strong."
The tournament was huge for the team as this tournament prepares them for district.
"Getting those 2 wins really helped us believe in ourselves," Klam said. "No one knew we were going to go 8-1 so we're ready to show people that we're not a team that can be walked all over on."
About the Writer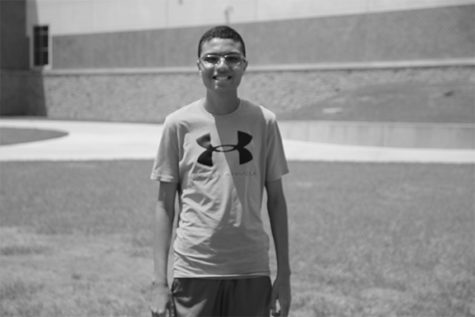 Justin Jalomo, Sports Reporter
Justin Jalomo is a senior and this is his third year on the newspaper staff. He is involved in band and the A/V department at Vandegrift. During his free time he likes to watch TV, play video games and play sports.