Sophomores wait hours for ACL concert surprise
Sometimes things are worth it no matter how long they take, even if it takes 14 hours in Texas heat.
Last Saturday, sophomores Kaleigh Meneses and Emma Palmer attended Troye Sivan's Bloom Tour at the Moody Theater, with featured singers Kim Petras and Leland.
"The experience was amazing," Meneses said. "Getting there so early and seeing that I was the fifth person there was surreal. Through the show, Kim asked me how I was and Troye asked for my pride flag. He held my hand during one of my favorite old songs, "Fools" which was mind blowing since he didn't grab anyone else's hand."
The girls didn't attend the concert expecting to meet Sivan and the others. Troye's management team usually selects only about 10 people from the seat sections.
"I didn't go in to meet him," Meneses said. "He doesn't do meet and greets and neither does Leland. It's been five years since I discovered him on Youtube and it was my second time seeing him live. I just really wanted to see him live again because he is such a beautiful performer who puts on the best show I've ever seen."
The girls began their day by waking up at 4 a.m. and arrived home around midnight. Meneses and Palmer were at the concert, outside in the Texas heat from 5:30 a.m. to 9 p.m. until they got into the concert.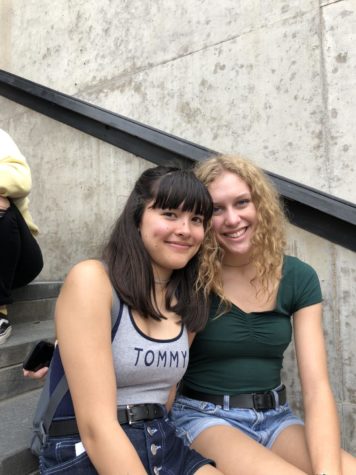 "I was excited but super exhausted from the day," Palmer said. "Although, anytime I thought about how much fun it would be, the waiting went by fast. Also there were a lot of dogs there which was entertaining. I don't necessarily regret anything but if I were to improve my experience I would've brought more board games."
After around 14 hours at the venue, both Kaleigh and Palmer ended up actually meeting Sivan and Kaleigh even got the chance to meet Leland.
"This experience was one for the books," Palmer said. "It  was honestly life changing because it was the very first concert I've been to where I made it to barricade and could touch the stage. It was super cute meeting all the happy fans they're all so soft and funny. This was a whole new concert experience and made me fall in love with his music all over again."
Meneses had previously met Sivan's mother in a concert in the past. Since it was her birthday, Meneses asked her if she could go backstage. The venue management was close to banning her since she didn't leave. But she convinced his mother after about 30 minutes.
"When I met Troye I felt like everything was so normal," Meneses said. "It felt like I was just talking to one of my best friends when in reality it was someone who I look up to and have been for so long. So to see him in front of my face was incredible."