Varsity baseball defeats Westwood 10-0
Varsity baseball defeated Westwood in game two of their two game series after the game was canceled and moved to Monday because of weather.
"It felt really good to get back in the winning path of things after a six game losing streak," senior team captain Peyton Klam said. "Everything came together that game and it felt good."
During practice, the team stayed focused and did their routine plays before the game.
"Once we were done, we went home and slept, made sure we drank plenty of water and then played the game," senior Jake Miller said.
A strength of the team was making their routine plays throughout the game, which is key in baseball.
"We hit the ball well, we stole, we got the timely hits with runners on and we can't be stopped when we do that," Miller said.
The team said their weakness was allowing too many hits.
"We've been struggling with that all year but if we work better on that, we'll be solid," Miller said.
The team is hoping to improve timely hitting with runners on base.
"We need to put the ball in play when there's runners on base," Klam said. "We need to get on base when there's runners on."
The win against Westwood puts the team back in the win column after going on a six game losing streak prior.
"The win felt good because we were expecting to win a lot of games but we lost and coach told us to go in expecting to win and we won," junior Christian Okerholm said.
In the game, Okerholm contributed to the team by pitching the whole game and hitting his spots.
"It felt good to contribute," Okerholm said. "It was good to win after losing six in a row."
Klam contributed by going 1-3 at the plate with three RBIs and had three or four catches in centerfield.
"It felt good to contribute," Klam said. "This is my best year at the plate so it feels good to not be anxious or nervous. It's my third year on varsity so I've gotten out of the nervousness, it's normal now."
Although he didn't do well at the plate, Miller contributed by catching every ball hit to him.
"It felt great to contribute," Miller said. "Confidence was through the roof. I'd like to do better at the plate but doing anything I can for the team helps out with my confidence."
The game prepares the team by giving them confidence as they go into their next game against Leander.
"Everyone is going to have skill," Klam said. "Any team can go out and beat another team but if you're not confident, you're not going to go and win that game. You have to come out, knowing you're going to score a lot of runs, knowing you're going to strike out a lot of people when you're on the mound so it helps with the confidence of the team."
About the Writer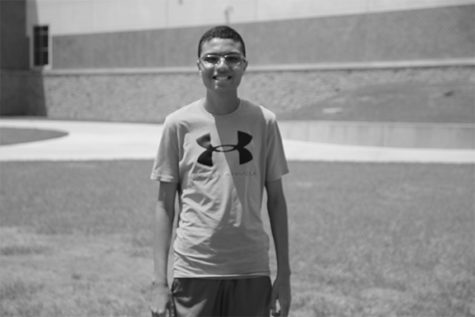 Justin Jalomo, Sports Reporter
Justin Jalomo is a senior and this is his third year on the newspaper staff. He is involved in band and the A/V department at Vandegrift. During his free time he likes to watch TV, play video games and play sports.