Girls varsity basketball lose to Vista Ridge 73-38
After a 47-38 loss to Hendrickson, the girls varsity basketball team looked to bounce back with a win but ended up on the losing side as they lost to Vista Ridge 73-38.
"I'm pretty disappointed because we weren't expected to lose that bad," senior Zoe Gilbert said. "When we played Hendrickson, it was a closer game and they were supposed to be the better team so it was a shock for everyone. We didn't play as together as we usually do and a lot of things were off."
Vista pressed during the game, so prior to the game, they worked on getting out of it.
"It worked because they didn't do it after the first quarter because we broke it every time," Gilbert said. "They like to trap us, so we also practiced how to pass out of the trap so it helped."
Although they could've done a couple of things better, a strength of the team was playing great defense.
"We moved the ball on offense really well and looked for open shots, they just didn't fall," sophomore Kaya Pehrson said.
Two weaknesses of the team were the shots not going in and the passes not being where they were supposed to be.
"There were a lot of little things that could be easily fixed but weren't good for the night," Gilbert said.
One thing the team can improve on is running more smoothly and knowing where to be.
"We practice a lot but getting together for a game needed to happen that night," Gilbert said.
In the game, Gilbert contributed to the team by helping the team stay positive.
"I felt like I was at least helping and not hurting, so it was a good thing for the team and the scoreboard," Gilbert said.
Pehrson contributed to the team by playing good defense, making good passes that set people up for shots and making a couple of baskets.
"It felt really good to contribute," Pehrson said. "It feels good to be able to help my team and contribute and make them better and help other people play better."
This game prepares the team well for tonight's game against Round Rock as they have a similar style of play to Vista Ridge.
"It helps prepare us by having played a team knowing how Round Rock is going to play and making sure we work on things we didn't do well," Pehrson said.
The team hasn't had a good start and a reason is losing seniors Andy Hahn and Ella Drablos to injuries at the start of the season. For the team to do well without them, they have to focus on outside shots.
"We aren't big enough as much to get into the paint," Pehrson said. "We still get into the paint but three-pointers and jumpers are things we need to focus on along with limiting post feeds since they're out."
The injuries to Hahn and Drablos have kept them out since the start of the season and since both of them are the height of the team, they got a taste of playing tall girls without them in their tournaments.
"It helped us see that's how it's going to be in district so we worked on specific things and ways to still get points without them."
The game against Round Rock is tonight at Round Rock at 7:00 p.m.
About the Writer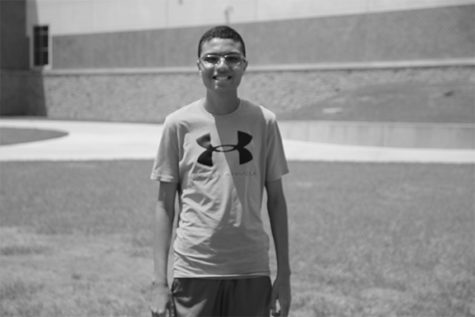 Justin Jalomo, Sports Reporter
Justin Jalomo is a senior and this is his third year on the newspaper staff. He is involved in band and the A/V department at Vandegrift. During his free time he likes to watch TV, play video games and play sports.