Girls Basketball Preview
The team dribbled down the court, making passes and running plays. The sound of the coach yelling on the sidelines echoed in the gym. Water break had started and the team jogged off the court, sweaty and exhausted.
The lady Vipers basketball team have been preparing for their upcoming 2018 season with practices that started October 17 and continuing through winter. This year's team consists of 15 varsity players, with eight returning from last year. The team started the season off with two scrimmages, one on October 27 and the other on October 30, winning both. Their first game is on November 2.
"We are faster than we were last year," head coach Jonathan Jones said. "This team has a lot of fun and work really hard together. They are a little more athletic and we get a lot done everyday."
According to Coach Jones, before games start, the practices run about three hours long, and once games start, they shorten to an hour and a half but become more difficult. With new additions to the team, including freshman and varsity player, Skye Ouroke, he believes this will be a successful season for the girls, and is excited to see how their hard work will pay off.
"To be on varsity, I was in the gym all summer for about 3 hours a day," freshman Skye O'Rourke said. "I had to stay in good shape. I've know that I wanted to be on varsity as a freshman since seventh grade, so I've been working really hard."
Although the varsity team only practices for ten more minutes than the JV team, both teams run the same plays and drills. O'Rourke has been preparing since middle school to play on the Vandegrift basketball team, and has put in the hard work to be on the team this season.
"It is different than middle school, but I like it," O'Rourke said. "I get to play with my sister, so it's fun that we are on the same team. There are more people that understand basketball better and they are more competitive since it is high school."
She seems to feel comfortable and enjoying the transition into high school sports.
The team has been very welcoming to newcomers and have been getting to know each other as the season begins.
"We had a tailgate and we had a program dinner together," Coach Jones said. "So far this year we've also done some service projects. "These things have helped the whole program come together."
These events have allowed the girls to form a bond that will allow them to develop a family type relationship, which will be beneficial on and off the court. The coaches are also very helpful to the players, and the girls seem to look up to the coaches as mentors.
"The coaches are the best," sophomore Mary Wein said. "They are constantly helping us improve and helping us out. I look up to them because they are dedicated to make the team the best it can be."
The team shows a great amount of respect for the coaches and what they do for the team. Although the girls are very thankful, the coaches seem grateful to share this experience with them as well this season.
"I'm looking forward to spending time with my team,' Wein said. "I'm thrilled to grow as a team and individually, and hopefully win a lot of games. I am ready for the season to start and I couldn't be more excited to play with my friends."
The season is underway as the girls are 2-4 on the season, with their recent game being a loss to John Paul II, 46-35. The next game is on Tuesday at Cedar Park at 7:00.
About the Writer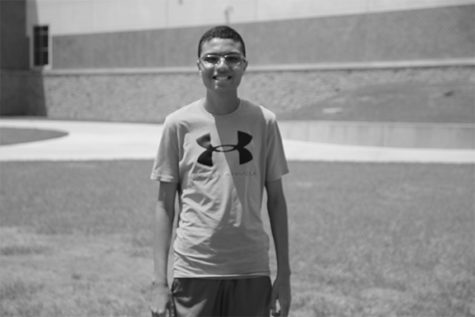 Justin Jalomo, Sports Reporter
Justin Jalomo is a senior and this is his third year on the newspaper staff. He is involved in band and the A/V department at Vandegrift. During his free time he likes to watch TV, play video games and play sports.