Vandegrift vs Cedar Park Football Preview
The 2018 Viper football season is here and the Vipers kick off the season in a rivalry match against Cedar Park, a game both the players and coaches are looking forward to.
"I'm looking forward to a game against great competition," senior wide receiver and defensive back Reese Watson said. "They are our rivals so we're going to go off but it's going to be a great game so I can't wait to play them."
Throughout the week, practice has been intense as the team is working hard to prepare for Cedar Park.
"Our guys are practicing extremely hard, wanting to improve, and desiring to have a great season, a type of season they want to remember forever," head coach Drew Sanders said.
The offense is doing well as they will attack Cedar Park's defense not only with their run game but also they're passing game.
"They like to run a man coverage so we're going to get some wide receivers open who can run great routes and score touchdowns," senior offensive lineman matthew Sanders said.
The defense is doing well as they will practice the pass coverage defense throughout practice.
"They're a pass oriented team so we're doing more pass coverage defense," senior linebacker Spencer Jones said. "We're still doing the run defense but we're hoping to get a couple of picks."
On Cedar Park's defense, key players the Vipers need to watch out for are the defensive linemen.
"I respect those guys but our offensive line has been working really hard and I think we can take care of those guys and expose them for some big run gains," Sanders said.
On Cedar Park's offense, key players the Vipers need to watch out for are their receivers.
"They have a couple of fast guys and one tall guy but our defense will be solid," Jones said.
For the game, both the offensive and defensive lineup look good as both sides have 5 players returning who will lead the way this season.
"Hopefully our new guys will step up, and you guys will see what everybody expects, which is another winning season from our football team," Coach sanders said.
There are no last minute changes to the offensive starting lineup but one change to the defensive lineup is Zack Gillcrist replacing Spencer Jones, who is out this game with a hamstring injury.
"I have full faith in Gillcrist in stepping up for me and playing my position," Jones said. "I think he's had a good week of practice and he's going to be good."
Some strengths of the team is what the team can do both offensively and defensively.
"Offensively, we can run the ball, our offensive is line and our running game are sound," Jones said. "Defensively, our run defense is very good and our pass defense is just as good so overall, we have a good team going."
The last time the Vipers beat Cedar Park was in 2014 and one thing they changed this year is their gameplan for the game.
"We have a lot of run plays that are going to open a bunch of holes on the inside," Watson said. "With that, we're going to expose the three-man front they have."
About the Writer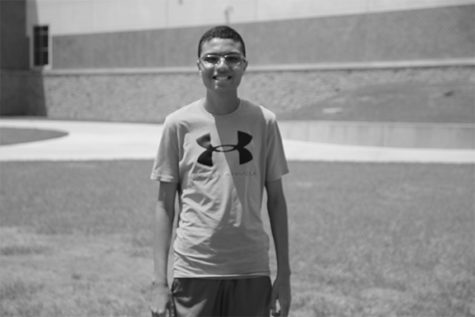 Justin Jalomo, Sports Reporter
Justin Jalomo is a senior and this is his third year on the newspaper staff. He is involved in band and the A/V department at Vandegrift. During his free time he likes to watch TV, play video games and play sports.