Girls Basketball defeats Hays 56-52 in Double Overtime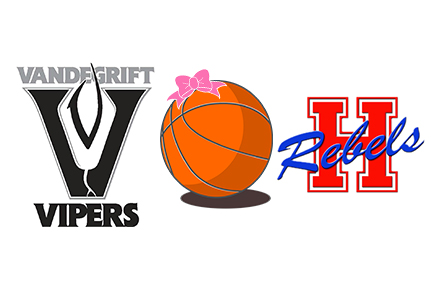 The girls varsity basketball team won their fifth district game as they held off Hays 56-52 in double overtime.
"It feels good," head coach Jonathan Jones said. "We didn't play great; they have a great player, probably one of the best in the district and she played fantastic and it made us figure things out on the fly, which we did. We dug ourselves a hole in the first half and we were down nine with two minutes left and we were able to come back and come together and it was a big win."
Their practices were about having a defense that was able to stop Hays' best player.
"We made sure our defense was strong," junior Jen Moore said. "We changed it up a bit going to a zone with one person in man so it was good."
Some strengths during the game were passing and moving the ball well and shooting a lot.
"A lot of us had really good shots and made our 3-pointers," freshman Kaya Pehrson said. "Fast breaks were also a big help."
A weaknesses during the game was the lack of making shots.
"In the beginning and towards the end, our shots didn't go in as much," Moore said. "We all knew that we could do it."
One thing they can improve on is starting off the game strong.
"If we came out on fire as we did in the end, we could've won by much more," Moore said.
In the game, Moore contributed by making last minute shots at the end.
"It felt awesome," Moore said. "It's always great to contribute and help the team win."
Pehrson contributed by guarding Hays' best player and denying her the ball.
"It felt good," Pehrson said. "A lot of people told me 'good job' after the game and it feels good to hear that."
This game will give the girls a wake up call for their game against Lake Travis tonight
"It's a good wake up call that we need to know that we need to start of strong," Moore said. "So tonight, for sure, we'll come out ready to go."