Vandegrift Football vs Vista Ridge Preview
The Vipers look to get their third district win of the season as they host the Vista Ridge Rangers on Friday for Pink Out. The Vipers enter the game with a 2-1 district record while Vista Ridge enters with a 2-0 record.
"Something that we can control is understanding the plays and the schemes we have for Vista Ridge because they have a good defense and are a good team overall," senior wide receiver Peyton Ausley said. "As long as we understand our plan, come through with it and make the plays that we need to make, we'll be fine and we'll win the game."
As a wide receiver, Ausley is not doing anything different for this game. He's just doing what he can control.
"I'm trying to do what I can," Ausley said. "Also, make the plays when they need to be made and do what I can to help my team out, help my quarterback out, make him look good and make our offense look good."
As an offensive lineman, junior Matthew Sanders is preparing by going through all of the calls during practice.
"We're feeling very confident in what we're doing in our gameplan," Sanders said. "Vista is a very good team so we're preparing just like any other opponent."
As a linebacker, junior Spencer Jones is preparing by watching a lot of film before Friday's game.
"Also, keying on their guys and making sure I know where they're going to go every time," Jones said.
Last Friday, the Vipers took on Leander and came out victorious 63-13.
"It felt good to put 63 on those guys," Sanders said. "I thought the offense did a good job as a whole. I thought everyone did their job and executed."
In the game, Sanders contributed to the team by making big blocks.
"It felt good to contribute to the team," Sanders said. "I had some big blocks so it felt good to do that. It felt good as a team to get it done and all the offensive line guys do a great job."
Also in the game, Jones contributed with a fumble recovery, pass break up and seven or eight tackles.
"It felt really good," Jones said. "I only played a half because we were up by a lot but the defense played really good."
Also in the game, Ausley contributed by scoring touchdowns for the team.
"It feels good to help your team win the game," Ausley said. "I do what I can to make my guys look good and our team look good."
About the Writer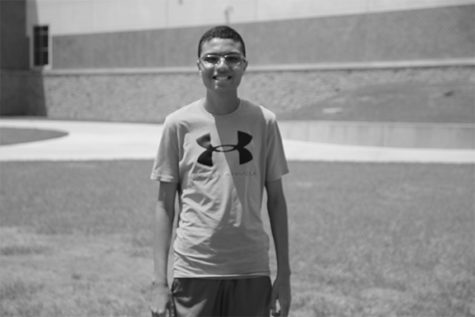 Justin Jalomo, Sports Reporter
Justin Jalomo is a senior and this is his third year on the newspaper staff. He is involved in band and the A/V department at Vandegrift. During his free time he likes to watch TV, play video games and play sports.