Baseball Loses Playoff Series 2-0
The baseball team made school history by going to the playoffs for the first time, but they were not able to advance to the second round, as they lost the series to San Antonio Churchill 2-0.
"Initially, it was pretty disappointing," senior Danny Klassen said. "We all wanted to win obviously, but at the end of the day, when we look back at it, we had a great season. We've never had a better season in Vandegrift baseball history, and we're proud of all the accomplishments and what we've been able to do."
The Vipers played Game 1 against Churchill at home. The Vipers lost in extra innings, 4-3.
"That was a hard fought game and was back and forth the entire game," Klassen said. "They got up and we fought back and we had them on the ropes for a little bit. Erik Miller pitched his butt off and unfortunately, we didn't come out with the win, but we knew we could get them tomorrow."
The Vipers were outplayed by Churchill in many areas.
"I think they pitched a lot better than us," senior Johnny Foral said. "Defensively, they didn't have many errors. They had a couple of calls go their way and they just played."
Foral helped contribute by calming down the pitching staff.
"I helped the pitching staff stay under control when the umpire wasn't helping us out by being there for them and knowing that they can trust me," Foral said."
Klassen contributed to the team by helping out his teammates on the field.
"I play right field for the Vipers so I caught a couple of fly balls out there," Klassen said. "I also scored a run that game and got one hit, but I definitely could've done more to help my team out."
The Vipers played Game 2 in San Antonio, and the Vipers lost 3-1.
"They had a dominating pitcher on the mound," Klassen said. "Parker Bond pitched that game, and he did great and only gave up three runs so that's impressive. We definitely could've played better defense that game, but their pitcher was overpowering at the moment."
Throughout the game, Churchill outperformed the Vipers.
"They got more hits and capitalized on our errors," Foral said.
The Vipers did one thing well by coming back late in the game.
"We started off rough," Foral said. "Parker got a little frustrated but we battled in the last inning. It was the seventh inning, we had bases loaded, 3-2 count, 2 outs and we couldn't put the runs across."
Although the Vipers didn't advance to the second round, they were still proud of going to the playoffs for the first time.
"It was an amazing experience and it's something I will never forget," Klassen said. "The senior class has changed the Vandegrift Viper baseball culture.
"Two years ago, I was on the team playing right field and when I look up in the stands, there would be nobody. On Friday night, people were there, actually caring and wanting us to win and that culture change is really what the senior class was all about."
About the Writer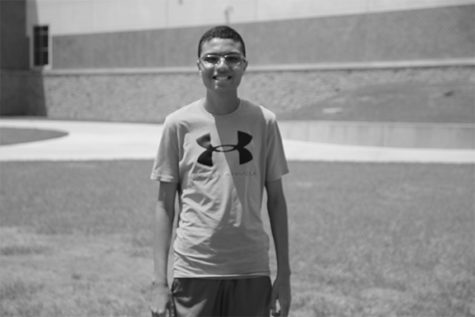 Justin Jalomo, Sports Reporter
Justin Jalomo is a senior and this is his third year on the newspaper staff. He is involved in band and the A/V department at Vandegrift. During his free time he likes to watch TV, play video games and play sports.