Boys Soccer loses 4-1 to Johnson
The boys soccer varsity team lost to Johnson in their first 6A playoff game 4-1.
"I'm pretty disappointed," sophomore Brandon Williams said. "I feel like if we would've won that game, we could've gone further into the playoffs."
The team prepared a lot for their game against Johnson.
"We did a lot of scrimmaging," Williams said. "We watched the film of Johnson before games so we could get a better feel for their team and better prepare for it."
Throughout the game, Johnson outperformed the Vipers on certain things.
"They had a good striker that affected the game a lot," Williams said. "He scored a few of their goals and kept on pressing. They had a better mentality going into the game and we lost motivation."
Although the Vipers lost, they played well in some areas.
"We pressed well," Williams said. "It was 2-0 at halftime, and we scored to make it 2-1, and we had momentum going for us, but they got a lucky goal which made it 3-1. We lost momentum and they scored, and it was 4-1."
After the game, the Vipers had to make improvements.
"We could improve on staying in the game and not quitting," Williams said. "If we would've kept on going, we could've tied it. If we got a second goal, we would've been able to get the lead after that."
Williams didn't play much but he tried to contribute to the team as much as he could.
"I played 20 minutes," Williams said. "I crossed a few balls in, but for the guys that don't get to play as much, it's more of supporting on the sideline and be able to cheer them on and keep the motivation going."
Before the game, coach said his team could win this game.
"I believed we could've won too but he was saying to keep our heads in the game and we tried to, but it just didn't work out," Williams said.
After the game, the coach was disappointed that the team lost and sad to see all the seniors leave.
"We had a bunch of seniors on the team this year, around 18 seniors, so it was hard seeing this game be their last game," Williams said.
For next season, it's going to be a lot of preparing for the team.
"We have so many seniors leaving and we only have four or five returning varsity players coming in next year," Williams said. "We're going to have to get everyone focused on being on the varsity team next year."
About the Writer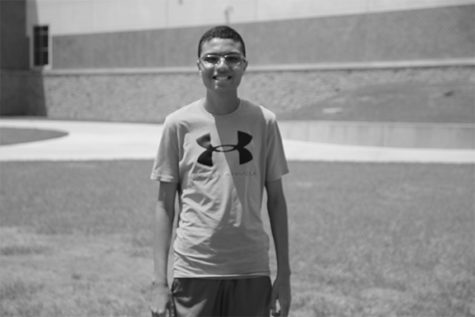 Justin Jalomo, Sports Reporter
Justin Jalomo is a senior and this is his third year on the newspaper staff. He is involved in band and the A/V department at Vandegrift. During his free time he likes to watch TV, play video games and play sports.