Demand for manga grows in school library
Over the past couple of years, the student library has seen a rising demand for manga–Japanese comic books and graphic novels. With its own separate room, the library's collection has surpassed the general amount for a single genre in comparison to traditional novels such as classic or thriller origin. 
A variety of categories are offered like Naruto (Masashi Kishimoto), an adventure and comedy mix, psychological drama Neon Genesis Evangelion (Hideaki Anno), fantasy and comedy mix Black Butler (Yana Toboso), thriller Death Note (Tsugumi Ohba), science fiction 20th Century Boys (Naoki Urasawa) and Blue Exorcist (Kazue Kato), another adventure-fantasy mix. These are just some of the series that students heavily gravitate towards.
"It [manga] is more than just a genre," senior Sergio Pereira said. "It's a different medium in the sense that there's all of the genre's you have with TV in anime and manga; so, there's always going to be something for everyone."
Seniors Lucas Collins and Luke Gutierrez gradually shifted to reading manga after years of watching anime, a style of Japanese film and television typically adapted from manga.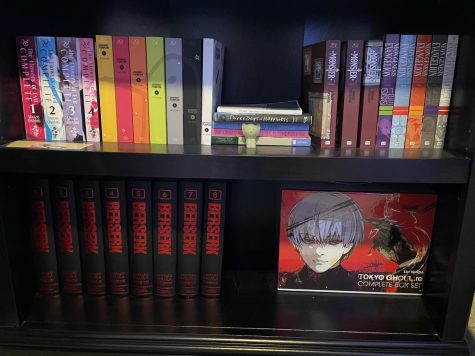 "Anime adaptations aren't always good," Collins said. "You read a manga and it's straight from the author, straight from their mind and sometimes, it's more pure and better."
Unlike traditional novels, manga is usually published in shorter, more concise volumes. Through this, students usually check out 10-15 volumes at a time, winning over lengthier novels. 
"Another appeal of manga is that you can fly through it," Gutierrez said. "You can get through a volume in an hour if you wanted to."
In a highly-competitive environment, Vandegrift students don't often have the time to read traditional novels, so they turn to the alternative, engaging medium of manga.
"It's a lot easier to grasp." Pereira said. "It's like a comic book but [has] a deeper story in it and culture surrounding it. It's one of the most popular forms of media in the world."
Though easy to fly through, manga offers deeper messages and undertones pertaining to realistic issues currently faced in the world. 
"Vinland Saga (Makoto Yukimura) is a story of the viking era," Gutierrez said. "It's about this young guy named Thorfinn and some tragedy goes on and he has to kinda find his way in the viking world. I think that's an interesting one a lot of people would like." 
Manga not accessible in the student library like Berserk (Kentaro Miura), JoJo's Bizarre Adventure (Hirohiko Araki), Jujutsu Kaisen (Gege Akutami) and Chainsaw Man (Tatsuki Fujimoto) are requested series by seniors Gutierrez, Collins and Pereira that may be a suitable addition to the library if available.
"Berserk is one of the best stories I've ever read because it's extremely complex, it's really emotional, it's dark fantasy, but it starts at the beginning of someone's life and goes through their journey," Collins said. 
Due to expenses and accessibility, students look at scans online of the stories, which are technically illegal, but ubiquitous. So, being able to read the stories tactically and in hardcover offers a higher quality experience.
"It's fair to the author," Collins said. "Mangaka, they have no life. They put all of it into their work. Being able to support them and not read their work illegally, it's really cool."
Because of the ample number of volumes to a story and the cost of printed images, expenses can pile up for students' personal collections. 
"It's expensive, I can't buy every manga volume that I want," Pereira said. "Whatever they have [at Vandegrift] that I don't have at home, I can always read.