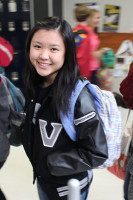 1. How long has Robotics been at Vandegrift?
This is Robotics' fourth year at VHS.
2. What is your favorite part about Robotics?
My favorite part of being in Robotics is collaborating with friends to succeed in competitions.
3. Explain what you do in Robotics/what are some of your daily tasks for the club?
Since I am on the marketing team, I help make the presentation of the robot look good.  This includes creating a team logo, posters, presentation boards, portfolios, engineering notebooks, and a team website.
4. What kind of person is Robotics looking for/what should potential members have/expect to learn?
Robotics is looking for innovative people that are hard working. They will gain better team building skills.
5. When/how often does Robotics meet?
Robotics typically meets for an hour before school and two hours after school.
6. What is the environment like in Robotics how do people interact/treat each other?
The environment is always full of energy and people's ideas are treated with respect.
7. What's something that people may not know about Robotics if they're not in it?
Something people don't know about Robotics is that marketing and sales is a huge part of it and that it's not all just about building the robot.