Crunch time: Seniors apply for college
Hang on for a minute...we're trying to find some more stories you might like.
Stress is piled on at this crucial point in one's high school career. With college application and scholarship deadlines quickly approaching, students are struggling to get everything they need done on time. Transcripts, test scores and supplement essays, the list goes on and on.
"I have barely started my applications," Hannah Brown said. "I am not very far because I am waiting to hear back from swimming recruiters. There are so many possible schools that I could swim at that I don't want to start applying until it is narrowed down. I still have to write essays and do all of the supplements, basically all of the hard stuff. Now I am just waiting to hear back from coaches."
Although some students face immense pressure to get everything done in time, some are ahead of schedule. There a handful of seniors who have already completed everything they need to do. All they have left is to receive their admissions decisions.
"Considering college applications are one of the most stressful parts of senior year, it is good to be done", senior Brian Mulligan said. I finished really early because I understood the importance of having them done in a timely manner to increase my chances of acceptance. I also knew that I would have homework and other things to do, so it was definitely nice completing some of the workload before the start of school. I have already been accepted to the University of Arkansas. This was exciting, but I'm still very anxious to hear back from my dream school, Texas A&M."
Among those that have completed all of their applications, several students have already received their admissions decisions and know their destination for next year. Whether it be an early decision application or an automatic admissions, some colleges have already released admissions decisions.
Senior Jill Fry will be attending the University of Texas at Dallas next year. She will be majoring in speech pathology. Her letter came in the mail several weeks ago, before some students even started to apply to college.
"I chose this school because it is the top speech pathology school in Texas and one of the top 20 in the nation," Fry said. "It feels amazing to be done with the application process and to know that I have UTD to look forward to. I am super excited to meet new people and to take advantage of the great opportunities that it offers!"

About the Writer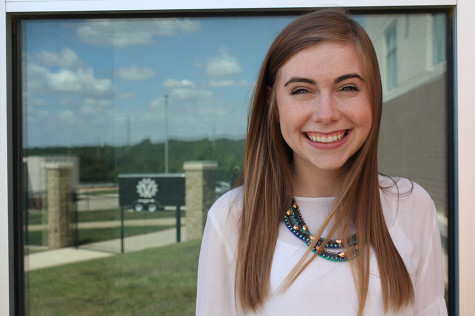 Lauren Conroy, Staff Writer
Lauren Conroy joined the Vandegrift Voice newspaper staff this year. She is the Student Council's executive historian, a C2 platinum member and a member of the National Honor Society. In her free time she enjoys volunteering in the Labor and Delivery department at the local hospital, shopping with her friends and taking her puppy, Murphy on walks. Lauren hopes to attend Wake Forest University and major in business. Eventually she hopes to go to medical school, become a neo-natal surgeon and open her own medical practice.