District Choir Auditions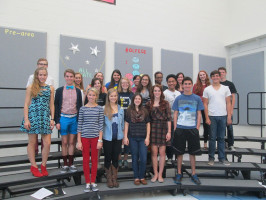 On Sept. 28, Vandegrift choir students auditioned for the district choir. Out of the 35 students who auditioned, 28 will be advancing to region.
The students were given 4 songs to prepare at the beginning of the summer, 3 of which were actually used as cuts for the audition. They were then asked to perform the cuts in front of three judges who ranked the singers by section.
"it's really nerve-wracking (sic) when you first get there and get your cuts, but it's so much fun to be able to meet new people and show the judges how hard you've worked on the music." junior Emily Adams, who received 7th chair, said.
The top 40 singers from each section have advanced to region, where they will audition against the qualifiers from other districts in the area.
"From here we go to region. If we continue to advance, we'll go to Pre-Area followed by Area auditions. After that is All-State auditions. " Emily said.
Vandegrift has never had a student progress to All-State before, although choir members are hopeful that this will be the year.  
"My goal is to continue bettering myself as a musician and of course make the All-State choir!"  Emily said.