Student Council holds second annual Pets 4 Pawesome Fundraiser
America has the presidental campaign, but Vandegrift has the pet presidental campaign. Students went onto the Student Council's Instagram page, and filled out a form, voting on whose pet should win the candidacy and be this year's president. Each vote costs a dollar and all the money will be collected through a donation system, and all donations go to Austin Pets Alive. 
"I love animals," sophomore and Community Service Director, Suruchi Zoe lan Vu said. "I have two dogs, named Milo and Dakota, who I love very much. I've always been a big animal fan, plus voting on animals gives a fun way to raise money for this no kill shelter."
Pets for Parlament is the name of the fundraiser that the Student Council does every year. Last year was their first year the student council did this fundraiser, and senior Hillary Xu, came up with the idea to do a fundraiser that has to do with animals. Staff members can nominate their pets as candidates, and the students can cast a vote on who's pets should win the campaign. This year is Vu's first year on planning and running the whole fundraiser within student council 
"It's been a blast. I really enjoy collaborating with the teachers, my peers and it's been great," Vu said. "It however took a lot of problem solving, trying to figure out what the best way for me to get the word out there and get people involved in this fundraiser. Some of the responsibilities I held was reaching out to people, appointing members in my community service committie to help out."
The Pets for Parlament event usually happens for a month, but because of how unusal the year has been, they decided to extend it.
"We were going to announce the winners last Friday, but we extended the time to allow more time for votes to come in just because of this digital formating, and it's a little difficult to reach people, and we understand that people have different financial concerns," Vu says. "Now we are going into the middle of May, but we don't have that set deadline yet, but it will be before the end of the school year."
The candidates running so far in this years fundraiser is; Student Council sponsor Kirsten Mulligan's dog Sosa Mulligan, English 4 teacher Amy Wororb's two cats Cory and Shawn, Sonya Proctor's dog Penny Lane, Algebra 1 and Pre-Ap Algebra 2 teacher, Lynn O' Donnell's dog Marley O'Donnell, Lead Librarian Zandra Lopez's grand-dog Patsy Jo, Pre-AP and AP Spanish teacher, Allison Beekla's dog Cabbage Su, biology and environment teacher Camilla Martin's chihuahua James Taylor, and last year's campaign winner, Cooper VanDouren, assistant band director Kathrine VanDouren's dog. 
"Particpating in Pets 4 Parlament was such a fun experience!" Mrs. VandDouren said. "Not only was it a fun way for students and staff to participate in a fundraiser together, but Austin Pets Alive is a wonderful organization to help."
Van also mentioned that Geometry teacher, Katy Seloff, submitted two of her rats, Impala and Velma into the campaign. 
"Anyone that's had Mrs. Seloff knows how much she cares for her pets," Van said, "so it's great to have them nominated this year, plus they are super cute."
Mrs. Seloff wanted to be part of the campaign to contribute to her "Rat Teacher persona, and further entertain her students with her rats.
"I love being able to use my cute little friends to help support APA!" Seloff said, "I hope that Velma or Impala are named the next President of Vandegrift." 
Last year Pets 4 Parlament was still able to happen, as they did the event before Vandegrift got affected by the pandemic. However this year, some changes were made to the fundraiser because of COVID-19, and how not everyone is in person or how some people aren't comfortable with directing people so closely.
"Last year, we had the fundraiser on Main Street in Building 2, and Hillary Xu would collect all the money, and we would take it to the shelter," Vu said. "However this year we give one hundred percent of the donations directly to Austin Pets Alive, and the way we secure this to the people who are donating is that I emailed the director of Austin Pets Alive, we've been collaborating with them and they set up a webpage that transfers the donations to Austin Pet Alive. Having this digital method of collecting donations, proved to be more efficient.
Last year they raised about $1,200 and this year, Vu is hoping to raise $2000 at the end of the fundraiser.
"On the webpage we have the goal set for $2000, we are very aware that not everybody is able to give donations," Vu said. "The reason we want to get over a thousand dollars is because we will receive a plaque of recognition in the Pet-sidents honour, and they will get their name in the kennel. Last year we had the names of the winners of the Pet-sidents, and they sponsored the kennel. So the goal basically is to reach over a thousand dollars."
Vu said that the best part about planning the whole fundraiser is getting to see all her favorite teachers and their pets.
"My favorite part has been collaborating with people and getting to see other people's pets, and just seeing how much people care for animals," Vu said. "This fundraiser is very dear to me, I volunteer at many animal shelters throughout the years, and I am collaborating with that dog park that is being built in Steiner Ranch."
When the Student Council gives the donations to Austin Pets Alive, a warm feeling comes to Vu's heart.
"Austin Pets Alive is such an amazing organization and they are happy to receive any sort of  donation as they are a no-kill shelter, so with that in mind, there has been over-crowding with animals and they heavily rely on volunteers to support them," Vu said. "So it just makes me so happy that I can help do my part by reaching out to people to contribute what they can to help out at this local shelter."
About the Writer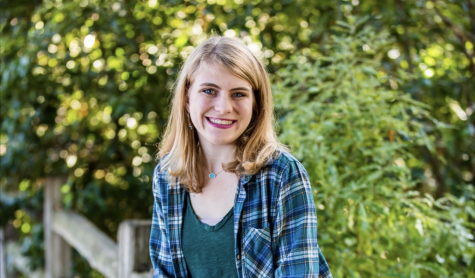 Taylor Chronert, Staff Reporter
Taylor Chronert is a junior and this is her first year on the newspaper staff. She is involved in Cross Country and Track at Vandegrift and has been doing that for three years. In her free time, Taylor enjoys reading, writing, listening to music, being outside, running, and spending time with friends