Get to know your SROs
Hang on for a minute...we're trying to find some more stories you might like.
Patrolling the halls daily, our Vandegrift School Resource Officers, James McDaniel and
Kimberly Richards work to keep our campus safe. Although many students are aware of the officer's presence in the hallways, few get the chance to meet the person behind the badge.
"We're human; we're exactly like you, the only difference is we have to be prepared to take action. We come to work every day in a bulletproof vest and a gun on our belt," Richards said. "Underneath all this, we're just the same as you guys. We get our feelings hurt, we have good days, we have bad days, we make good choices, and we make poor choices."
While their main goal on campus is ensuring student safety, they're trained to help with a lot more than that. McDaniel has previously taken a life coaching course to be better equipped to help the student body answer tough questions about their future and aid them in any way he can.
"I like to go a step further and help kids figure out their direction in life," McDaniel said. "I can help them make decisions about their future. I want people to know I can do more than fight crime; I can help you find your path and passion."
Their office door is always open. Together, they have created a safe space for students to come and talk about whatever may be on their minds. One of the pillars of the triad model they follow is counseling, something they take very seriously and aim to be a mentor for any and all students who need it.
"I have so much fun meeting students and hearing about their days, what's going on, and being there as a support for them if they need help with something. To be a directive to either assist them or find an avenue to help them with what they need," Richards said. "Come into our office, I've had students come in and grab a bag of chips and vent. Whether they are mad at a teacher, a student or whatever it may be that we are here to mentor and guide them and help them make good choices."
Both SROs have been in law enforcement for more than 20 years, have a deep passion for their jobs and have wanted this career since they were children. Officer Richards endured a notably tough path to accomplish her dream career. Because of a birth defect, she was born missing five fingers including a trigger finger. She never thought law enforcement was an option for her, especially after the military turned her away. After dealing with bullying in college, Richards looked into alternative professions thinking she couldn't be an officer.
"I was still trying to take college courses when a collision happened involving a close friend of mine occurred. I was working at a horse ranch and the accident was right across the pasture. I ran down and the officer that was working the collision was missing fingers as well and I realized at that time that I could do it," Richards said. "I immediately started applying for departments and when that didn't pan out I found a local training academy and put myself through it."
Off-campus, Officer McDaniel is furthering his education at Texas A&M by taking classes in cybersecurity. As his retirement approaches, he plans to continue his protection of communities by pursuing a career alternative in the field of technology.
"I'm learning how to become an ethical hacker," McDaniels said. "I can still look for bad guys and have the fulfillment like I've protected someone or something while still being behind a desk and not have to physically engage with a suspect and risk harm to myself."
Richards' and McDaniel's main goals on campus are to keep students safe, secure and supported. They aim to change the assumptions of the student body from the way officers are often portrayed to someone they can talk to and trust on campus.
"I want to let the kids know we're here for them, that's why I'm always out in the hallways. I'm trying to learn names, I try and go to club meetings and watch basketball games. I try to make myself visible for students to see that I am interested in you guys and here for you, not here to get you. We are not here to get students in trouble," Richards said. "Our job is to keep the bad guys out and if the bad guys come in to go direct to the threat and eliminate it. I don't know all of the kids here, but I will take a bullet for anyone of them. That's my job."
About the Writer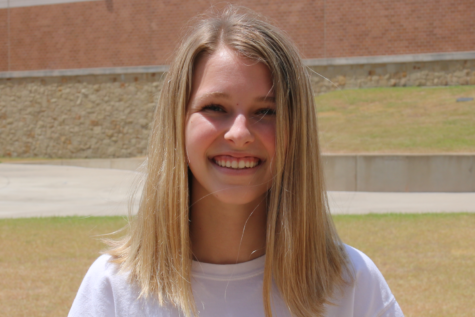 Eilla Reid, Staff Reporter
Eilla Reid is a junior, and this is her first year on the newspaper staff. She is also involved with PALS, UIL Academics, Key Club and Yearbook at Vandegrift. In her free time, she enjoys reading, going to concerts and spending time with her friends and family.