Previewing the College Football Playoff National Championship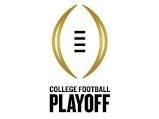 Last Saturday, the much-anticipated College Football Playoff began with two blowouts. In the Peach Bowl, Alabama defeated Washington, 24-7, in a game that was never out of the Tide's control. In the other semifinal, Clemson routed Ohio State, 31-0, in a game dominated by the Tigers.
The blowouts in the semifinals make it apparent that Alabama and Clemson are the two best teams in the nation. The two teams will square up next Monday in the National Championship, and I expect the game to be an entertaining one.
An interesting matchup within this game will be how Clemson's offense matches up with Alabama's front seven, which is seen as the best in the nation. Their front seven was strong enough to hold Washington running back Myles Gaskin to 34 yards. Gaskin had been shredding solid defenses all season, but had zero success when facing Alabama's defense.
Because rushing is nearly impossible against this stellar Alabama defense, DeShaun Watson will need to have a big game to keep the Clemson offense in the game.
The Bama secondary made Washington quarterback Jake Browning look out of place in the Peach Bowl, for he only threw for 150 yards, one touchdown, and a costly interception that was returned for a touchdown.
However, Clemson has a better matchup than Washington did because DeShaun Watson is a much more experienced passer than Browning. DeShaun Watson has been a finalist for the Heisman Trophy the previous two years, and is regarded as possibly the best dual threat quarterback in the nation. Alabama has a better secondary than almost anyone, so Watson needs to avoid forcing passes to covered receivers and steer clear of easy interceptions from the Alabama defense.
While Clemson's offense will need to produce in the Championship, their defense will have to come up with some big stops on defense to have a chance at winning.
Alabama has a solid offense, but they are not nearly as dominant as their defense. They are led by freshman quarterback Jalen Hurts, who has had a good first year of collegiate play. However, Hurts still regularly makes freshman mistakes, as he leads the NCAA in most fumbles since early October.
Clemson's defense is not as explosive as Alabama's, but it is still one of the best units in the nation, as it allows 16.7 points per game and has forced 20 interceptions on the season. If they can force multiple turnovers, Clemson can win some valuable field position that can lead to rare points against a stellar Alabama defensive unit.
Although Clemson is talented enough to keep it close with the Tide, Alabama is the best college football team in the nation and will win defend their title as champions.
Score Prediction: Alabama 31, Clemson 20