The spotlight is on Vandegrift: Theater at UIL One Act Play Competition
All the cast and crew members gathered in the dark, closed theater room to begin rehearsals for their One Act Play competition piece. Excitement filled the air as many prepared for their first–and for some, their last–time competing for Vandegrift Theater.
"Our competitions are over now but I felt pretty confident," senior Brooke Dickerson said. "We have rehearsed so much and we have practiced so much and talked about how the day is going to go so many different times that it all just kinda worked out."
This year for the UIL competition, the Vandegrift theater company performed a piece called "The Glove Thief," which was inspired by the conflict between Queen Elizabeth I of England and her cousin, Mary, Queen of Scots.
"It's all through the eyes of a thief and it's crazy," Dickerson said. "We put a little metallic spin on it and it was really fun."
In this particular performance, many actors played main characters, including senior Ashley Benedict who played Queen Elizabeth and junior Nick Remey who played John Lesiley, the Bishop of Ross. 
"I enjoyed how fun it was to actually play a real character," Benedict said, "She actually existed and the story is actually true, so just getting to research about her and her life and getting to portray that on the stage was super cool."
Before the competition season began, the whole theater company spent a weekend in a cabin on the lake to do team bonding activities and work on the show. Remey said that when he was at the cabi, he realized that they had a really good show for the competition.
"We all showed up to this big house and spent a couple of hours just playing some games and stuff like that," Remey said, "I didn't know what to expect because I have never been to one before, but then we started actually working on the show and it was at that point when I realized that we had a really good show and a really talented cast."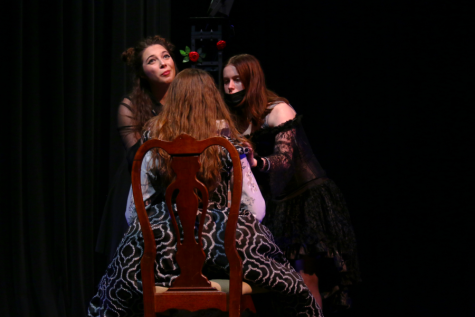 To help prepare and get ready for their competitions, the cast would typically have rehearsals every day after school and on some weekends.
"The process is similar to other shows; it's just a little more intense when it comes to certain things," Dickerson said, "You are held to a higher degree than other shows, so we probably rehearsed everyday after school for close to three months."
Right before spring break, the theater company had their first District competition where they placed second, which advanced them to the Zones competition and then they advanced again to the Bi-District competition. 
"It was so fun to almost set a legacy for Vandegrift theater by advancing out of district because it's only been done two times before," Benedict said, "It's very rare that we advanced out of district, so we are really proud of ourselves."
Last Thursday, the theater company unfortunately did not advance out of Bi-District to the next round. Remey said that the competition was definitely tougher with some things working "against them" at the competition.
"During the actual tech rehearsal and the performance, our set didn't entirely fit in the midline so we had to make a few adjustments there which was fine; it actually ended up working out," Remey said, "During the show though, our show file with all the lights and stuff programed actually ended up getting deleated. So Brooke turned it off after trying to fix it, because after the first three cues it wasn't our show anymore, and basically made the show up as she went with the lights, which is ridiculously impressive."
Even though the theater company didn't end up advancing to the next round, they are proud of what they pulled off, given the circumstances of what happened at the competition.
"We were a little bit bummed that we didn't advance," Benedict said. "We were obviously hopeful, but we weren't going to be obviously shocked that we didn't because Vandegrift has never advanced out of Bi-District. So obviously we were a little disappointed but overall super proud of our show and at peace with our decision." 
By making it to the Bi-District level, the Vandegrift Theatre Company matched the "record" that previous OAP classes had set. .
"If we would've have advanced again, we would've broken the school record, but we didn't unfortunately," Dickerson said. "But it felt great because not one person in the cast or crew has done high school UIL before, and we just kept advancing."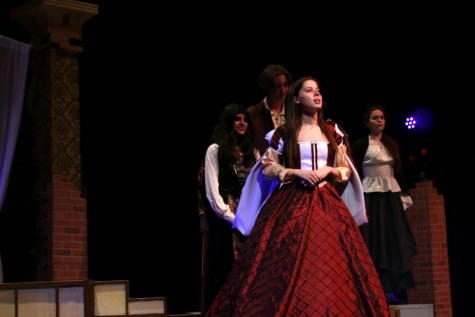 Besides the group winning awards for the piece, many individual awards were announced and given to students to honor their performances individually. Both Dickerson, Remey and Benedict were awarded individual awards with Dickerson awarded "Best Technician" and "Best Tech Crew," Remey for "Honorable Mention All-Star Cast" and Benedict for "Best Performer" two times. 
"My character only shows up only three or four times, so to get an award for only showing up a couple of times was really cool and kinda like confirming how hard I worked," Remey said, "What was more important to me though than the award was when everybody was just freaked out when I got the award–it was really cool."
Being her first ever UIL competition performance, Dickerson said she is going to remember the relationships she's made along the way.
"To put on a show like this and for all of us to be working in such a tight knit group and do something as stressful and chaotic as UIL theater, you become so close," Dickerson said. "And all of us are such a family and you don't get tha, especially with theater groups and such."
Next Monday at 7:00, the theater company will be having their live curtain call performance of their One Act Play where students, parents and teachers can come and watch what they have been working on. Remey said he hopes to see a bunch of people there.
"I just want a bunch of people to feel the electricity that happens when we're all on stage together because we all kind enter this one mind set and I hope the audience can experience that," Remey said. "And [I want the audience to] see through our show how hard we worked and how much we put into it."