Theater students attend National Thespian Convention
Forty-two theater students from all grade levels traveled to Grapevine, Texas Nov. 15-17 to attend the National Thespian Convention, more commonly called Thescon. Here, the students attend workshops, plays and a variety of classes to enhance their theatrical skills and build bonds with their fellow actors. Students also get opportunities to do college auditions and scholarship interviews.
"It's a place where a whole lot of theatre kids come together all in one spot," junior Kelsey Woodrom said. "[They come] to learn and grow about all aspects of the craft, so they can better themselves for their department and their futures."
The convention had 100 of workshops ranging from technical classes such as stage managing skills to Mediterranean African Dancing. The students also got to see Tony Award Winner Annaleigh Ashford perform with the All-State Cast during closing ceremonies and give a keynote speech to the attendees.
"My favorite part is learning from people who have done this in a professional setting and getting real-life information that you wouldn't normally get," Woodrom said. "I've been able to learn so much more and prepare myself while hanging out with my best friends."
The students have opportunities to learn a plethora of things. They can improve technical aspects as well as dancing skills and stage makeup, among other skills. Some takeaways that the students had didn't just come from classes, but from gaining experiences.
"I learned a lot on this trip, new Stage Management techniques like how to control a room effectively and stop closing myself off," Woodrom said. "The most helpful thing I learned, though was that there are so many different ways to do one thing, and no one way is incorrect. You just have to find what's best for you."
Junior Olivia Kirchhoff had her own fun memories from the convention. She recounted her favorite workshop – "The Room Where it Happened" dance master class, which is a song from the hit Broadway musical "Hamilton."
"[It was my favorite class because] I love dancing," Kirchhoff said. "It's a great song and the choreographer put really intricate, yet fun, techniques that made it a really exhilarating experience."
Every student had their own favorite class. Junior Kylie Diefenthaler discussed a workshop where the instructor taught them to create a character completely surrounding one body part of their choosing.
"I love Thescon because it truly bonds you with your classmates," Kirchhoff said. "Something about being roommates really brings you closer, and having the opportunity to learn amazing techniques really brightens the experience."
About the Writer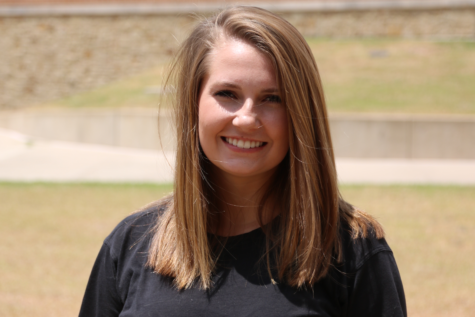 Codi Farmer, Staff Reporter
Codi Farmer is a senior and this is her second year on staff. She is also involved in PALS, DECA, UIL Academics and Rake the Lake. She loves music, reading and writing and can often be found playing with dogs.