FFA veterinary science team places eighth at nationals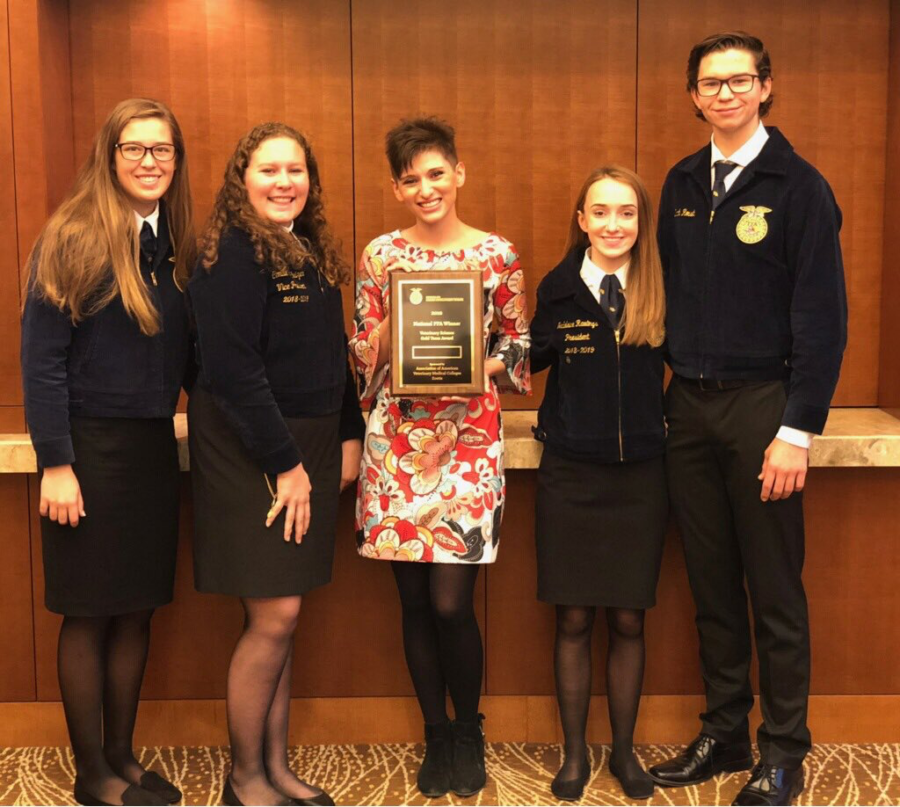 Hundreds of competitors packed into the banquet hall. The room was tense, filled with nervous, idle chatter that drowned out the string of speeches. As they started to announce the placings, one question ran through the team member's minds — out of 50 states, where would Texas place?
The Vandegrift veterinary science team placed eighth last Friday at the 91st annual FFA convention in Indianapolis, Ind.. The team, consisting of seniors Camille Barkhuizen and Zach Roush as well as juniors Madeline Rawlings and Lauren Stevens, competed that Wednesday and Thursday.
"We had high hopes, and we had some pretty big shoes to fill because Texas is known to place in the top 10," Rawlings said. "We were eighth in the nation, but [we had to compete against] 1,600 teams alone in Texas [to get to nationals], so with 50 states, it is a really huge thing. It was very jaw-dropping, relieving and emotionally fulfilling."
In addition to coming in eighth place as a team, Rawlings and Roush received gold stars to commemorate them placing in the top third percentile of the competition. Barkhuizen and Stevens received silver stars for individually placing in the top two thirds of all the contestants.
"It was cool because they placed everyone in the bronze and silver stars first," Roush said. "Just knowing, like, after those two groups of people that were announced, that you got a gold star, it was exciting."
FFA sponsor Magan Escamilla advised the state champion team, drilling them on all aspects of the competition to prepare them for nationals. The practices, held before school two or three times a week, helped the team know what to expect at nationals, which was structured differently than the state competition in April.
"We got to know a lot of those things beforehand," Rawlings said. "Once we got there, we had a pretty good understanding of what it was going to be like. I feel as a team, and individually, we were all really prepared thanks to Ms Escamilla, who's one of the best advisers of all time."
"
"I was going to be proud of them no matter what, but with that eighth place finish, I feel like we accomplished everything we set out to do from the very beginning of the season"
— Magan Escamilla
Escamilla's goal for the team was for them to place in the top 10, but she did not tell the team to avoid adding to the mounting pressure they faced. Throughout the entire process, Escamilla said she not only learned a lot about veterinary medicine, but about being supportive as well.
"It makes all the nights that I spent up late making PowerPoints that much more worth it because I know that it paid off in the end," Escamilla said. "Anything is possible, and if they set their mind to it and work really hard there's nothing that can set them back. They all control their own destiny."
This year's team was the first veterinary science team in LISD to attend nationals. Unfortunately, FFA rules bar students who won state from competing in the same competition again, so the students on the team will not have another chance to compete in veterinary science next season.
"I was going to be proud of them no matter what, but with that eighth place finish, I feel like we accomplished everything we set out to do from the very beginning of the season," Escamilla said. "Hopefully I do have teams in the future that go as far or farther than they did, but they will always have a very, very special place in this program and in my heart. I've really enjoyed working with all of them."
Rawlings said that she is proud of her team for all the effort they put into the veterinary science competition. She is amazed by how well the entire team has performed in a competition covering a field that they all want to pursue careers in.
"I feel that all of us have a great future in it," Rawlings said. "It's going to be hard. Just this small portion of it was hard, and it's a very small basis of veterinary medicine, but it definitely taught us how to prepare for stressful situations and how to prepare for our future."
See the team's preparation for nationals here.
About the Writer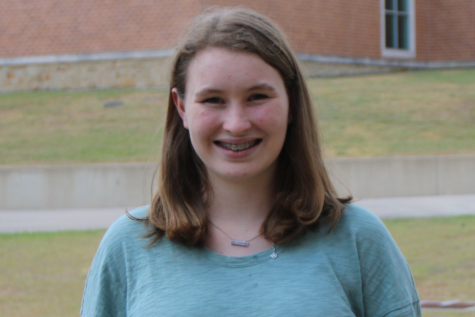 Natalie Brink, News Editor
Natalie Brink is a senior, and this is her third year on the Vandegrift Voice staff. In the spring, she competes in UIL journalism. When she has free time she reads as much as she can and walks her dog. She hopes to pursue a career in journalism after graduation.