Erin Fahey commits for golf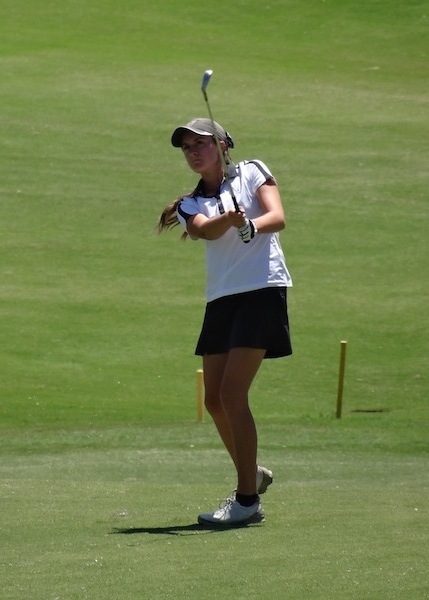 Senior Erin Fahey verbally committed to the division one school Bowling Green State, located in Ohio, last Thursday. She is the first girl on the girls golf team to verbally commit to a university.
"I am so excited to have committed to play D1 golf," Erin Fahey said. "Taking my game to the next level has always been a dream of mine and I can't wait to see how much I improve and how well I will compete."
Erin started playing golf with her dad at a very young age. Up until high school her main sport was basketball, but eventually decided to turn her main focus was going to golf.
"I have always wanted to play a division one sport," Fahey said. "I never thought I would end up playing golf, but now that I have committed I couldn't be more proud of my achievements in this sport."
According to NCAA, in the United States there are roughly about 5,042 division one scholarships offered to high school athletes every year. To be able to obtain a scholarship, an athlete must stand out from other peers in their sport.
"You definitely have to have talent," Fahey said. "Good grades and good work ethic are also extremely important. College recruiters look for the whole package. You have to be well rounded in the classroom and in your sport."
Because of all the requirements that student athletes have to achieve, many college recruiting processes may take a long time to complete.
"It was definitely a grueling process," Erin's dad, Bob Fahey said. "First there is the initial contact with the coach, then Coach Young, the Bowling Green State girls golf coach, came to watch Erin play. After that we had to to on an unofficial visit to the college campus, and then Erin verbally committed about three weeks after that."
Erin and her family are very excited for her to go to college on a full scholarship, and to keep progressing in her golf skills at the college level.
"My family and I are so happy," Erin Fahey said. "I love the golf coach, the university, and all the girls I am going to be playing golf with. I am very proud of myself for being able to reach my goals and I can't wait to see where this opportunity takes me."