Legacy Dance Team Wows at iDance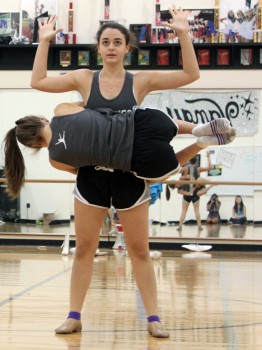 The Vandegrift Legacies performed in iDance, a district-wide dance showcase, on September 29th at Leander High School. The team shared the stage with four other Leander dance teams, showcasing what was to be expected in the year to come.
Along with senior Brittany Le, the captain of the Legacy dance team, officers from Leander, Cedar Park, Vista Ridge, and Rouse High School opened the show with a high-energy jazz routine.
"I made a lot of good friends in iDance. We're all hanging out now. It was really nice to be able to bond with people from other schools," captain Brittany Le said. "The opening number was super fun. It was nice that all the officers got to come together."
Delaney Bull lead the hip hop routine, in which the dancers learned at summer dance camp, to "Mercy" by Kanye West. Select performers from each school were included in the dance.
"Mercy was really fun. It was a great opportunity to hip hop with the other girls," junior Delaney Bull said.
The Legacies performed dances of many different genres, from contemporary to hip hop, including a lyrical piece entitled "1 in 88," a tribute to a Legacy supporter. The dance was very close to the team's heart, as it was dedicated to the supporter's son who is within the autism spectrum. The name of the piece represents the statistic that one in eighty-eight children are affected by autism.
"'1 in 88' is dedicated to someone very close to the legacies whose son is within the autism spectrum," senior Legacy Officer Erica Reichman said. "Performing that dance was the team's way of saying thank you for everything you have done for us and we are here to support you know matter what."
The show highlighted what was to come for this year in Leander dance, and the Legacies have big plans for 2013: competing in Drill Team Nationals.
"This year the Legacies are going to the American Dance/Drill Team National Competition," Reichman said. "We are expecting some tough opponents, but I think we will do fantastic."
The show's finale was a district-wide kick routine, a tradition unique to Texas drill teams. The teams ended the show in their southern-style field uniforms, another tradition special to Texas.
"My favorite dance I performed in was probably finale, because it really highlighted all of the teams well, and the crowd was really loud and supportive," sophomore Maddy Andre said.