Students Get Involved In Local Charities
Hang on for a minute...we're trying to find some more stories you might like.
For members of the Vandegrift community, charity is a huge part of life. Various clubs and organizations require students to complete a certain number of volunteer hours each semester.
 "Charity is a good way to give back to your community while still having fun," sophmore Taylor Searels said.
 Austin is filled with many volunteer opportunities. However, it can sometimes be difficult to get involved. Capitol Area Food Bank, Mother's Milk Bank and Miracle League are three charities that are easy to get involved in.
                Capitol Area Food Bank is a way to make a difference around the community. The food bank works to help people that cannot afford food by sorting and handing out free meals.
When sorting the food, volunteers are given a product category. Volunteers then go into the sorting room and divide the products into specific groups. For instance, if the category was bread it would be divided into groups such as sweet bread and multigrain bread.
Another way to volunteer at Capitol Area Food Bank is going in on Saturday mornings and passing out the post-sorted food. This gives volunteers more direct contact with the people they are helping.
 "I enjoy working at the food bank because I know that I am helping thousands of Americans, who would otherwise be starving, have food on their plate at night. I know that I am helping put food that would otherwise be put to waste, be put to good use,"  volunteer Lauren Conroy said.
Mother's Milk Bank is a similar organization where volunteers can help sort breast milk to give to premature babies.
"We mix milk and bottle them up to get ready for shipping. We volunteer in two hour shifts, either from 9am-11am or 11am-1pm," sophomore Morgan Wright said. "I enjoy it because it's an easy process to follow and you are helping so many babies."
Miracle League at Town and Country is another way to help out the Austin community. For students who like sports and children this is a way to volunteer while still having fun.
"The purpose of this program is to help kids with special needs play baseball" Sophomore Gabby Fatke said. "It feels really great to help people and the kids are so sweet".
 Miracle League has two seasons, fall and spring, in which volunteers are required to meet once a week.  Games are on either Saturday or Sunday. Volunteers will be assigned a child with some form of handicap who they will play with at every game.
About the Writer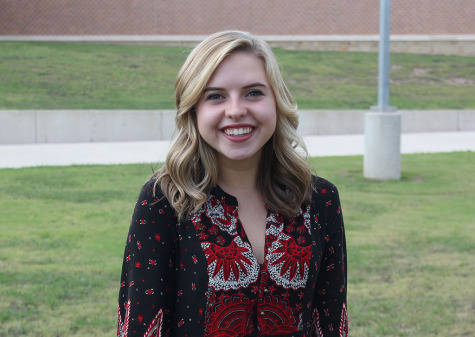 Kelly Honts, Web Editor
Kelly Honts has been a part of the newspaper staff since her sophomore year in 2012. She is the Vice President of Vandegrift's choir program and very involved with both Student Council and NHS. In her free time Kelly has her very own lifestyle blog called The Pretty Peony where she posts about both food and fashion. Kelly hopes to attend the University of Santa Clara and major in marketing so she can eventually go into fashion merchandise. In Kelly's free time she enjoys hanging out with friends, spending time outside, and reading!