Oscars Fashion: best and worst dressed
Brie Larson, you go girl! This actress not only took home the Oscar for Best Actress for her portrayal in the movie "Room," but I am now giving her my award for best dressed. Brie has been slaying the red carpet all season and finished off the best look yet. Cobalt blue is a great color and Brie dressed like she knew she was going to win that Oscar.
Kate Winslet is a bright and shining star, literally! Her black strapless dress had a metallic look to it and actually did shine. Kate was up for an Oscar for her work in the movie "Steve Jobs." Kate did not win the Oscar, but I would say that she won the night when she walked down the red carpet with Leonardo Dicaprio. Can you say friendship goals?
Lady Gaga, the woman that everyone is nervous to see when she steps on to the red carpet. Lady Gaga is not afraid to take risks and she looked gorgeous at the Oscars. Her all white look was so classy, but she did stay true to her Lady Gaga style and pushed the envelope with wearing white pants under the ball gown like skirt. This is the type of Lady Gaga that I want to see all the time!
Amy Poehler, why? You usually do so well, but this floral long sleeve look really ages you. I am confused on what is happening. It is the Oscars, it's supposed to be fun and pretty and girly, you wear a one of a kind dress. I mean the dress could be better, if you took the flowers off of it. Amy, I just expected more, I really did.
Hedi, Hedi, Hedi, what is this? You are a supermodel and designers beg to work with you, but this look is just horrible. I don't really know what is worse- the different shades of purple, weird cut in the middle or the three really awkwardly placed flowers. Not really sure why you are even at the Oscars, but since you did get invited to the most prestigious award show all season please dress a little better in the future.
Alicia Vikander, good thing you're gorgeous, because your Oscars dress was ugly. Not really sure how considering you are the new muse for Louis Vuitton and every other dress that you have worn has been stunning. I will say that Alicia does look like real life Belle the Disney Princess getting ready to go dance with the beast. But then again it looks like the dress was made as dress up costume, silver sequins really? Alicia did win Best Supporting Actress so she did not fail entirely. But next time, just a piece of advice, don't wear yellow.  
About the Writer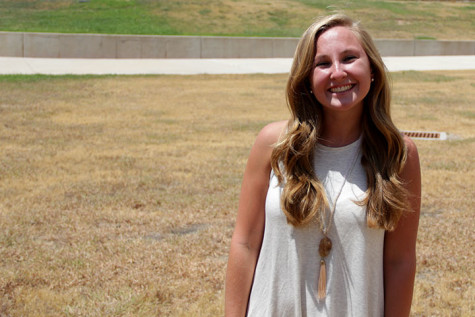 Kate Murphy, Newspaper President
Kate Murphy is a senior, she has been a writer of the Vandegrift Voice for three years. She is the current President for the Newspaper where she plans events and helps encourage her fellow students. Kate enjoys writing about sports and lifestyle articles, she enjoys writing about her fellow classmates and getting to know them. Go Vipers!