Viperbots prepare for final qualifiers
Hang on for a minute...we're trying to find some more stories you might like.
With just two more qualifiers until the regional competition, the Viperbots season continues. Teams who did not compete (or advance) at the first qualifier will contend at the final matches to decide who advances further to regionals.
"Watching them get ready and practice for the competition [is exciting]," sophomore Linnea May said. "The energy in the air is contagious."
This Saturday, 4545 (Ouroboros), 4546 (Snake Byte), 6210 (Viperbots Stryke) and 7161 (Big Fang Fury) will compete at Roosevelt High School in San Antonio. On Jan. 31, 6209(Venom), 6299(Quad X), 6210 and 7161 will compete at Harlandale High School in San Antonio.
"We're really optimistic about our other teams qualifying," junior Brendan Hollaway said. "It's their first chance to show what they've worked all this season on."
All six teams from Vandegrift have the opportunity to advance to region, and 4545, 4546, 6209 and 6299 have already qualified for region on Feb. 20.
"I personally love just watching the teams compete," Hollaway said. "It's a lot of fun, it really is."

About the Writer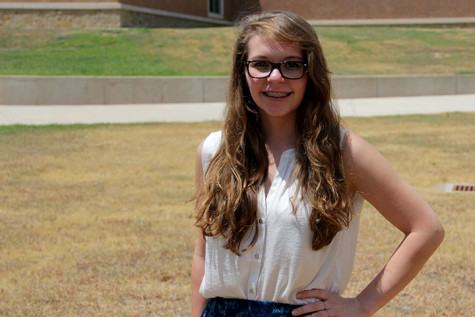 Laura Figi, Web Editor in Chief
Laura Figi (though commonly referred to just as "Figi") is the Web Editor-in-Chief for the 2015-2016 year. She enjoys writing and competing in UIL for the journalism team. Laura is Historian of the French National Honors Society, and a member of French Club and Philosophy Club. Outside of school Laura enjoys playing ukulele, singing, taking pictures of bands and downtown Austin, and playing video games. Laura plans to go to college in-state and study newspaper/broadcast journalism, photography and French.