Seniors continue college wall tradition
Students start virtual college wall during COVID-19 outbreak
While COVID-19 has taken many milestones and events away from the class of 2020, seniors Roshan Desai and Tanvi Siruvuri have created a way to continue the college wall tradition on social media with the Instagram account @vhs2020collegewall. The annual college wall is a tradition that many seniors look forward to. Set up in the main hallway, it showcases what college students have committed to. 
"We were kinda bummed we would never get to see our names on the famous wall at Vandy, and we figured others would be too," Desai said. "We figured that this would be the best way to replace the wall that we all missed."
The pair decided to create the account after being inspired by a similar account from a different school. Seniors can directly message the account with their future college, major and anything else they would like to have featured. So far a 60 graduating students have reached out to be included on the page, each receiving an individual congratulatory post.
"We have had about 60-70 submissions in total, about 10-15 are still being processed for posting," Desai said. "We only like to post 2-3 a day so each senior can have their moment."
The account was  run anonymously by choice to ensure inclusivity and allow anyone to be encouraged to reach out.
"To begin we didn't really want to take credit for this. This was not ours or something we were doing, but rather something that belonged to the entire Vandy senior class that we were simply piloting. Further, we didn't want to repel students who weren't our friends," Siruvuri said. "By staying anonymous no group of the senior class was excluded. We did not want the submissions to be our friends, but rather a spread of people all around the large class we have."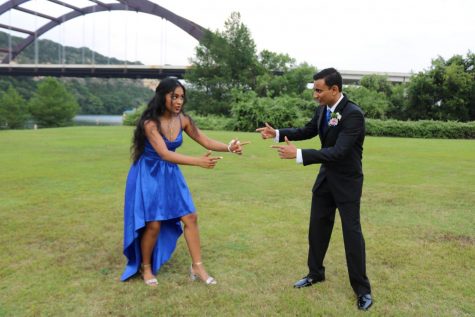 This updated  tradition has allowed it to stretch even wider. Students featured are able to share with family, friends from other schools and loved ones living elsewhere. It also has provided a permanent documentation of our current time and can be looked back on for years to come. After years of work and dedication, students are being recognized and praised for their accomplishments. 
"It felt really good to be congratulated and reached out to by my peers. It's a wonderful feeling and made me smile," senior Petyon Meadows said. "I loved the idea of this social media platform, it is a great way to see where people are off to in the next chapter of their lives."
Siruvuri and Desai will continue to run the account and feature any Vandegrift senior that reaches out.
"We would like to say congratulations to all the seniors for everything you guys have accomplished," Survivor said. "We are always taking submissions. If anyone would like to be featured please don't hesitate to DM us @vhs2020collegewall and we'll be more than happy to recognize you guys!"