Sophomore Makes a Movie
Hang on for a minute...we're trying to find some more stories you might like.
Based off of the videogame Fallout, sophomore Baron Pulitzer came up with an idea to make his own movie on YouTube that is an introduction to a new series that he will be working on called Tales of a Junktown Ranger.
The series is about a ranger who grew up in Junktown and left to start a new path of life starting from the ground up. Fallout takes place in an apocalyptic world full of different organizations and militaristic groups. The New California Republic is a democratic federation in Fallout that is in a time of need and creates a mission to contact the Junktown Ranger for him to help.
"I've always loved the videogame Fallout, and was excited to be able to put this movie together," Pulitzer said.
The movie includes a cast from the University of Southern California acting program including Thomas Anawalt, who plays the merchant and general officer, and Tarah Pollock, who plays the customer and Colonel Moore. Pulitzer met the cast through his sister who  is a part of the program.
"It was great getting to work with a cast from the USC acting program. They were real and authentic, which brought a lot to the characters that they played," Pulitzer said.
Pulitzer first started to put the costumes and weapons together in December of 2013 and finished all of the props in May. In June, Pulitzer and his cast went out to film in the Mojave Desert in southern California, which is also where the game takes place. It took seven months for his team to shoot the scenes, and edit the whole movie and upload it onto YouTube. Pulitzer will be creating more Tales of a Junktown Ranger movies when he is able to get enough Internet traffic for his series.
"I am excited to see where the series goes and I hope to make more Tales of a Junktown Ranger films soon," Pulitzer said.

About the Writer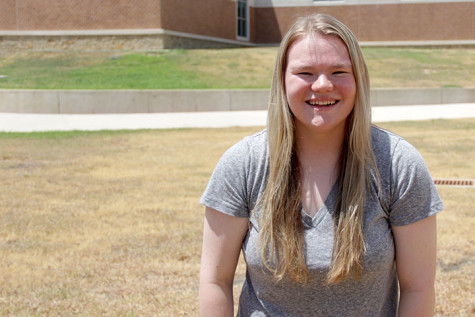 Zoe Dowley, Feature Editor
Zoe has been on the newspaper staff for three years and loves writing and informing the school of everything that is going on throughout the year. Zoe is a senior and plans to study Social Work in college to help people who need it the most. She will miss Vandegrift and writing for the newspaper when she heads off to college.