Robotics FTC qualifier
Next week the eight Vandegrift robotics teams will be competing in the FTC qualifier at Vista Ridge High School. The teams competing are Ouroboros, Snakebyte, Venom, Stryke, QuadX, Hydra, Hyperfang, and Copperhead.
"I'm excited to see how the robots do," said junior Mikaela Mclelan, "this game is more complicated than it looks, so it should be really fun to watch"
First Tech Challenge is for students in grades 9-12, with teams being anywhere from six to 12 people. All the teams have been working long hours to perfect their robots, usually about eight hours during the week with seven hour build days on the weekends.
"From day one we began researching things like different steering options and competition specific things, which include color sensors and scanning Vuforia codes," said junior Devin Fink. "We also spent a good amount of time brainstorming what the best system for many aspects of the competition would be."
The annual challenge this year is relic recovery, and it involves tasks such as the robot decoding a map, making patterns, and balancing stones. With so many details, teams have to constantly adapt their robots to solve problems.
"We've had to stay later and come in earlier to work things out such as the lift and collections systems as well as our autonomous," Fink said. "In addition, recently we were told that the servos we had been using were not legal with our current setup, so we were forced to dismantle much of the collection system and manipulator."
The teams will compete in five point-based rounds, and the competition as a whole takes around four or five hours. After this competition, also known as a league, there will be two more leagues before the championship.
About the Writer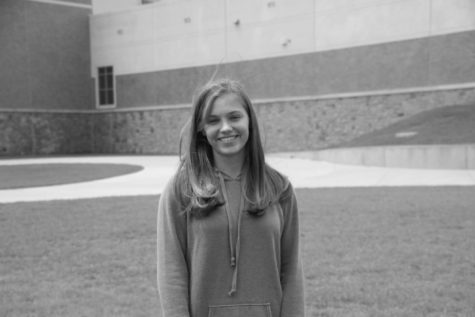 Elena Aventa, Staff Reporter
Elena Aventa is a junior and this is her first year on the newspaper staff. She is involved in ASL Honor Society, NHS, lacrosse, and her church group. In her free time, Elena likes to read, watch Friends, and walk on the trails.