Viperbots advances to the world championship
After competing in super regionals, ViperBots has advanced to the robotics world championship. Three teams have advanced: 4546 Snakebyte, 6299 QuadX, and 7161 Hydra. The championship is from April 19-22, and the teams will be traveling to Houston.
"Right now they are meeting every day before school and after school, going over their robots and their programming, and making really small changes to get ready for the competition," Viperbots sponsor Irad Allen said. "They're trying to make adjustments from the super regionals at Georgia, and trying to take what they learned from that experience and make little tweaks that will make their robots work better."
At the competition, there are multiple parts that are judged: their robot and its ability to play a game, the design of their robot, how innovative their robot is, the software of it, and many other aspects. The games in the competitions vary for each one, and change each year.
"This year's game is a little bit easier than past games, so there are a whole lot of teams that are really good. The competition is unbelievably stiff," Allen said. "In the past, we've always made it to the elimination rounds and finished fifth or better so I hope that the three teams make it to the elimination rounds. But most importantly, I want them to have a good experience and to compete really well."
The robotics students work from September to February on their robots, and try their hardest to make the best possible outcome. They plan  exactly they want the final outcome to be and then slowly get to that goal, even after competitions. Their robots are constantly evolving.
"We didn't really know what to expect when we went into super regionals. We knew there were teams from the Southern United States and we knew a lot of them were pretty good," senior member of QuadX Ethan McCosky said. "There was a lot of effort that went into every little detail of running the event, and it was really nice because of that."
This is 6299 QuadX's fourth year in a row going to the world championship. At super regionals, they won the design award for their robot, and they have won the same award at worlds for the past two years in a row.
"There's teams from all over the country that know who we are and know that we're good, and it puts you under a different kind of microscope," McCosky said. "One of the things we always say is that we're in a fishbowl because of the success that our program has had, and it's especially true at the world championships when you've historically been one of the best teams.We've won the design award at the championship for the past two years in a row and we're hoping to be the first team in the world to win the award three times in a row, so we'll see where that goes. If we win it a third time we'll be the first in the world to have that kind of consistency."
McCosky stated that the stress of the competition isn't bad because of the closeness of the robotics teams. When they travel for a competition, they stay in nice hotels and eat at restaurants in the area.
"Competitions are always a lot of fun. We spent 5 days with some of our closest friends. We spend so much time together and we're such good friends anyways," McCosky said. "You hop on a plane, you go somewhere else in the country, and it's a lot of fun aside from the competition. Talking to people and going to different restaurants, stuff like that is a lot of fun."
A junior and member of 7161 Hydra Nidhi Vedire, also has her opinions about the world championship.
"It will be cool to see teams from other countries," Vedire said. "Last year, there were teams from so many different countries."
There are 128 teams competing in worlds, out of the 4,000 teams all around the world.
"They're all good. When you get to this level, they're the best in the world," said Allen. "So they're basically the top of the top. But they're just as good as the ones in the past, it's just that the competition is a lot tougher this year."
The three robotics teams are traveling to Houston for the championship, and it is the first year that the location has been there. Although it is unexpected, the teams are prepared.
"I'm expecting it to be really fun in Houston. It seems like they're setting it up pretty well, and I'm definitely looking forward to spending more time there, we're even staying in an amazing hotel right next to the venue," McCosky said. "As far as what I'm not looking forward to, there's nothing besides being sleep deprived the entire time, but ya know, caffeine helps with that."
About the Writer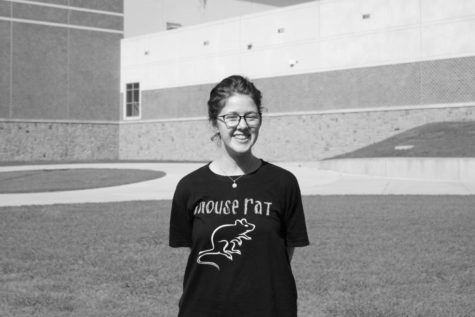 Hadley Hudson, Co-Editor in Chief
Hadley Hudson is a senior and this is her second year on the Vandegrift Voice staff. She is the Editor in Chief for the 2017-18 school year. In her spare time, she enjoys studying, reading, and participating in school clubs. She is a member of FCCLA, HOSA, and Red Cross. She is looking forward to another year in newspaper, and enjoys writing feature stories.