Vandegrift holds first Flavor Fest
Hang on for a minute...we're trying to find some more stories you might like.
Last week, Vandegrift held its first Flavor Fest in the cafeteria during second period. The food fest was meant to get feedback on how to improve the cafeteria food.
"They said that the surveys are going to drive the decisions on what will be in the lunches moving forwards," assistant principal Tiffany Phelps said. "Hopefully that's true, that they really do take that feedback. I can't imagine why they wouldn't.
Flavor Fest was from 11 to 11:30 and showed off a variety of food including coffee, Menchie's frozen yogurt, french fries, smoothies and healthy snacks.
"Most of the food was pretty good," junior Ethan Wade said. "You could tell which one they put a lot of effort into. There were supposed to be smoothies but it just tasted like ice. A lot of the food was better than what the school lunches are."
Students who attended were given a piece of paper and a pencil and were asked to write down what they thought about each food. The APs said that the top three choices would be considered for the cafeteria menu next year.
"It makes me want to buy lunch more if we have more food like that," Wade said. "The only reason I'd be buying lunch is if I'm running late to school. Other than that, the new food that they added, I'd probably want to actually buy it."
The AP's came up with Flavor Fest to create a menu that would be more appealing to students and encourage them to eat in the cafeteria.
"I just think that we as Assistant Principals, because we are in the cafeteria all the time and constantly hear some students complaints about the food, love that it is finally giving the kids a voice and they finally have a chance to give their opinions," Phelps said.
Many students expressed the hope that the foods seen at the Flavor Fest would be added to the traditional cafeteria fare.
"I'm hoping for a lot of foods to be there because a lot of those foods were really good compared to what we have now," junior Kendall Holmes said. "It would be just a really nice change, probably a lot better for kids too."
About the Writers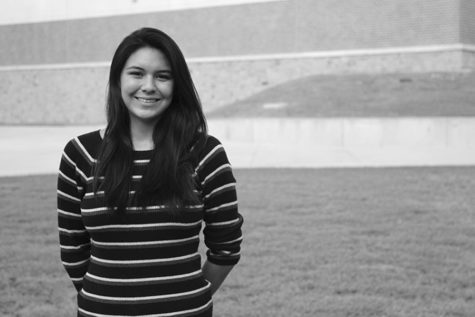 Sophia Alaniz, Web Editor
Sophia Alaniz is a senior and the web editor of the Vandegrift Voice. Sophia is also involved in the theatre department and has filled the roles of stage manager and assistant stage manager. Sophia is also the lead expeditor at the Black Walnut Cafe and this November will be her one year anniversary with the company.