FCCLA competitors head to state
Hang on for a minute...we're trying to find some more stories you might like.
FCCLA president Emily Hart and members Melinda Dopson, Kelse Redwine, and Adriana Derderian all competed at the STAR (Students Taking Action with Recognition) district competition on Jan. 31- Feb. 2 and placed in the top six to move on to the state competition held in Corpus Christi on April 9-11.
STAR competitions are held for those involved in the club and is designed to recognize individuals for their proficiency and achievements for occupational preparations, leadership skills and projects.
"They're very fun because you get to spend a lot of time with your friends and gain support through them, while making new friendships with the people from all of the other schools at the same time," Redwine said.
The competitions include a variety of categories for a student to show off what they have worked on for scholarships, awards, and career goals. Chapter service project display, interior design, culinary, career investigation and recycle and redesign are just a few examples of the many available for an FCCLA member to compete in.
"We are very proud of our project because we have worked really hard to complete it," Derderian said. "Practicing before the district competition helped to make sure we were fully prepared to present what we had ready."
Hart and Derderian came in second place in the chapter service project display category for making and filling stockings for the Texas Baptist Children's Home for Christmas. Redwine placed third in recycle and redesign, and Dopson placed fifth in interior design.
"It's hard work and you need to make sure you have time to make your project, put everything together, and be prepared to present at the end," Hart said. "I've learned a lot about time management throughout the process."
STAR events are in place to provide meaningful opportunities for participation in the areas of personal growth, family life, career preparation, and community involvement. Each event is designed to help students develop specific lifetime skills in planning, goal setting, decision making, communication techniques and leadership.
"I've learned a lot of leadership and communication techniques that will help me in the future," Hart said. "I can't wait to go to state and see how we do as individuals, and as a team to see what all we have learned and apply it to the state competition and to our daily lives."
About the Writer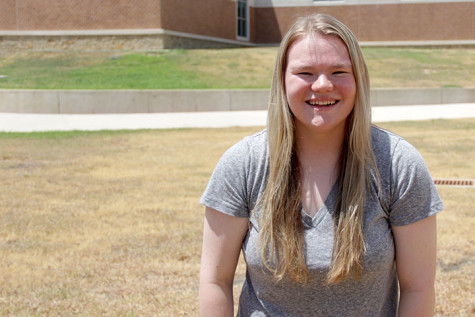 Zoe Dowley, Feature Editor
Zoe has been on the newspaper staff for three years and loves writing and informing the school of everything that is going on throughout the year. Zoe is a senior and plans to study Social Work in college to help people who need it the most. She will miss Vandegrift and writing for the newspaper when she heads off to college.