Teacher Spotlight: John Schocken
Hang on for a minute...we're trying to find some more stories you might like.
Chemistry and biology are among many students least favorite subjects, yet John Schocken finds a way to put the fun in the fundamentals of science. Tackling three different courses in only his second year of teaching, Schocken somehow finds a way to manage all three while making each class fun to take.
"Mr. Schocken, in my opinion is a great teacher," Junior Elijah Kabigting said. "He is very passionate about his job and tries very hard to teach his students."
Originally from Pennsylvania, Schocken found his way to Texas after being accepted into University of Texas. At the time, Schocken wanted to work in a lab instead of wanting to be a teacher,   
"It was the TA and actually that got me into teaching," Schocken said.
When you're a graduate student in college, you have to TA, which stands for teacher assistant. Essentially students are in charge of helping a professor and other students in a college level class.
"As I TAed more I found myself enjoying it more and more and it became something I was looking forward to every day more so than going into the lab," Schocken said.
After being nominated by his students for a TA award for the college of biological sciences, Schocken decided that it was time to pursue teach as a career.
"It was kinda that signal of 'hey! you're putting of effort in this,'" Schocken said. "The students appreciate what I'm doing and I see them learning a material at a level that is high and that I wanted them to. It was just fun. I literally left, went out of the lab, walked across the street to the other building at UT, upstairs at the UT teaching department and I was like sign me up! How do I do this."
Schocken currently teaches freshman pre-ap bio, and on level chemistry for sophomores and juniors. Some of the things Schocken is most infamous for is the creative labs he comes up with for his students.
"For Bio, The McMsuh is definitely a fun one," Schocken said. "It's where you blend up a happy meal and test for different biomolecules and that's always cool."
This year Schocken will also be undertaking Med lab for juniors and seniors. Vandegrift has provided tons of fancy equipment this year ensuring tons of fun labs this year.
"I think my favorite lab is going to be something we haven't done yet," Schocken said. "We got tons of new high tech equipment and next semester, we will be sustaining different types of cells and purifying proteins. I'm really looking forward to it, it's going to be awesome."

About the Writer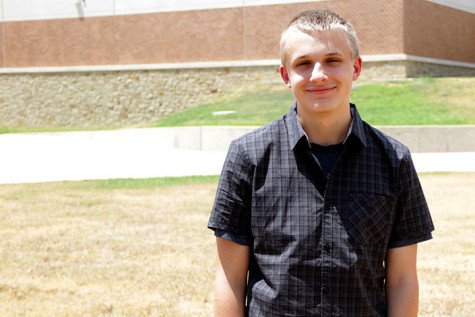 Max Bowman, Writer
Maxwell Bowman is a junior who adores writing and can't wait to contribute to this year's newspaper and many to come. He is currently a very attractive staff writer who prefers writing movie reviews, but will take any story that comes his way. Max's favorite subject is English and his favorite teacher to date is Ms. Hammons. In his spare time he enjoys spear fishing, rustling, and of course, Monopoly. He is currently with a beautiful princess and plans to move to Canada.