Theatre begins fall musical rehearsal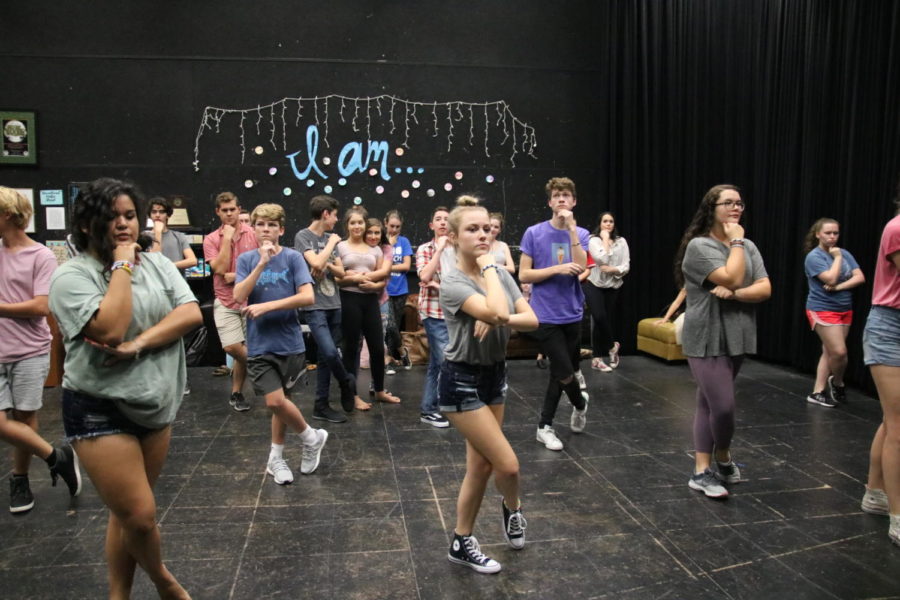 Cast members gather backstage, getting to their positions for the first number while crew members anxiously wait in the booths for the grand drape to part. The directors take their seats in the audience, ready to finally see their two months of work open.
This year, the Vandegrift Theatre Company will kick off their 2018-19 season with the musical production of "The Sound of Music". The show began rehearsals this week and will open Oct. 25.
"I love musicals," music director Michael Zook said. "I really enjoy being a part of the musical. It's a lot of fun to get to know the kids. It's fun to see the production at the end. I'm working with all the students on all of their songs. All of choruses on all of the chorus numbers. I am in charge of all things music."
Normally, the company opens the season with a play directed by Jon Alonso in the fall, but with head director Celeste Schneider directing both the winter musical and One Act Play around the same time, scheduling conflicts occur.
"Last year, being my first year, I just did what they've always done and it got a little crazy," Schneider said. "With One Act Play and [the] musical overlapping, I thought I was going to pull my hair out. So then I thought, why don't we just do the musical first? We're just gonna do it and see how it works."
The production, along with Schneider and Zook, has John Connor as the technical director, and Gaebri Anderson as the choreographer. Auditions took place during the summer, where students had to prepare both a monologue and a song. The show was casted within the first week of school.
"It's always a struggle because sometimes you have strong singers that aren't strong actors, and vice versa," Schneider said. "It's just on a bigger scale too, because you get a lot more people that audition. I made an extended deadline for all of my Theatre I classes if they have not heard about the musical yet and wanted to do it."
Rehearsals are held everyday after school up until Oct. 16, which marks the beginning of tech week. During this week, the entire cast, including the crew, join together to run through the entire show.
"During tech week, my job is to make sure everyone else does their job safely," Conner said. "Once we get to [the] performance, if I have done my job correctly and filled all the positions with people who know how to do their job correctly, I do nothing."
With opening night right around the corner, the cast and crew have wrapped tech week, having two finals days of dress rehearsal to incorporate the finishing touches onto the show. After that, it's showtime.
"I've always loved the Sound of Music," Schneider said. "It's a lot of hours of work but I always love it when it comes together and I'm sitting in the audience and just super proud of everybody. I just feel like the musical is one of those high school experiences that you'll never forget, ever. You'll never forget being a part of the Sound of Music at Vandegrift. It's a lifetime opportunity."
"THE SOUND OF MUSIC" CAST LIST
MARIA RAINER- CLAIRE SARMAN
EMILY DENSMORE
CAPTAIN GEORG VON TRAPP- SAM SMOOT
MAX DETWEILER- CARLOS ALVAREZ-ROTH
ELSA SCHADER- KYLIE DIEFENTHALER
MOTHER ABBESS- ELIZABETH WIDENER
LIESL VON TRAPP- SHIANNE GALASSO
FRIEDRICH VON TRAPP-DAKOTA ROTH
LOUISA VON TRAPP- ANNA ZAVELSON
KURT VON TRAPP- HAYDEN WARREN
BRIGITTA VON TRAPP- SAVANNAH BLAU
MARTA VON TRAPP- HADLEY REBTOY
GRETL VON TRAPP- CLAIRE BUTLER
ROLF GRUBER- CHRISTIAN DOOLEY
SISTER BERTHE- IZZY MENDOZA
SISTER MARGARETTA- KAYLA STEWART
SISTER SOPHIA- ALEX FLETCHER
SISTER AGATHA- CRISTINA KOVACS
SISTER CATHERINE- JUDITH ROBERTS
FRANZ- DJ AGLETON
FRAU SCHMIDT- OLIVIA KIRCHOFF
HERR ZELLER- MICK SMITH
BARON ELBERFIELD- CAMERON ROMERO
BARONESS ELBERFIELD- AUDREY KIMBALL
ADMIRAL VON SCHREIBER- GAVIN VANNA
SPECIAL POSTULANTS AND NUNS-
ANNALISE PICKERRELL, ASHLEY GRADWELL, CHLOE ALMENDAREZ, ELLE HARTMAN, EMILY MORRISSEY
CHORUS (SOLDIERS, NEIGHBORS, SALZBURG CITIZENS, CONTESTANTS)-
BEZA GALATIS
LILY WHITEHURST
EMILY GERACI
ALAYNA CLEMONS
ABBY CLEMONS
ABBY HELD
MIA MATHE
BREE SNEED
MIA THOMPSON
ALLE NAU
MEAGAN HENRY
ALLY MORRIS
SOPHIA SWOYER
ELLA KNOBLOCH
About the Writers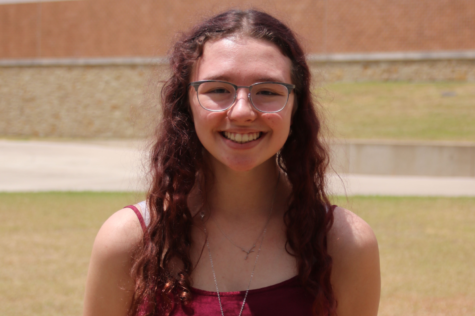 Claire Lawrence, Opinions Editor
Claire Lawrence is a senior and this is her third year on the newspaper staff. She wants to study journalism in college and eventually become the editor of a successful publication. She also enjoys theater and writing music.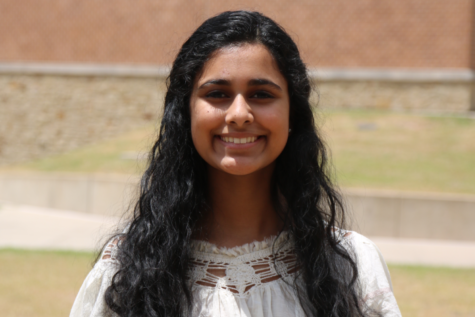 Harshita Avirneni, Spotlight Editor
Harshita Avirneni is a senior and this is her third year on the Vandegrift Voice staff. She joined newspaper because she wants to pursue a career in journalism. Harshita is also involved in UIL journalism, robotics and FCCLA.