FCCLA Goes to Corpus Christi
Hang on for a minute...we're trying to find some more stories you might like.
On Jan 30- Feb 1 FCCLA will be in Corpus Christi competing in their club's competition.
Lily Azad, Kelse Redwine, Iridian Villeagas, Eman Kahan, and Sterling Crowdas all competed in different events at the competition.  Based on the event a student is competing, such as Chapter Service Showcase or Focus on Children, the students address a concern in our society, form a plan, and act on it using knowledge from a family and consumer science class they have taken.
"I'm competing in Chapter Service Showcase Display along with Kelse Redwine and Lily Azad," Villeagas said, "This will be my first year competing with FCCLA, but it seemed like fun and people who have done it in the past really enjoyed it."
The students competing in the Chapter Service Showcase Display have to volunteer in some way and thoroughly answer questions about it and create a project board to show to a panel of judges. They came in on weekends and during PIT to make sure that their board stood out.
"For our project we played games with our peers from the ICAP room during PIT and made sure to take a lot of pictures," Kelse Redwine said. "I look forward to actually taking our project to the competition and competing as well as meeting people from other schools and getting to know everyone else better."
While Kelse, Iridian, and Lily show their project in Chapter Service Showcase, Eman Kahan will be competing in Focus on Children. Her project revolves around how eating healthy food and exercising at an early age can positively effect a child's life.
"The kiddos of today are someday going to be in charge so we need to make an impact on them now," Kahan said.

About the Writer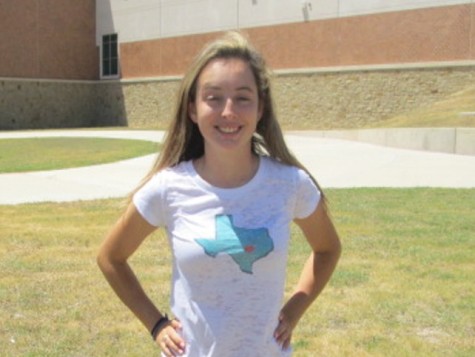 Sarah Davis, Sports Center
Sarah Davis is a senior at Vandegrift this year. She has been on the newspaper and yearbook staff since her sophomore year. She was also the Vandegrift I-reporter for Friday Night Fanstand. Sarah enjoys writing sports stories and is the sports center editor. Sarah wants to attend The University of Alabama and major in communications. Outside of school Sarah like to write, wake-board, and hang out with friends.