Teacher Spotlight- Mr.Feris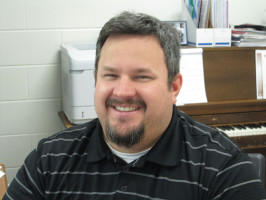 1. Please say a little bit about your life outside of school.
I have a dog named Charlie and I live in Round Rock (I actually moved there last night). Outside of school I lead worship at a church and I'm also a huge foodie.
2. What made you want to be a choir director?
I was originally planning on being an accountant because they were paid well, but then I started thinking about my life with out choir and decided it wasn't worth it.
3. What is your favorite part about being a teacher at Vandegrift?
We have great kids, a great faculty, and an awesome administration team. Vandegrift is also in a very well run school district.
4. What should students who have you expect?
Students need to expect to work hard, be held accountable, and sing A TON.  
 5. What is one fun fact about yourself?
Before I got this job I bought a food truck and was going to start my own food trailor.