Kicking for Cash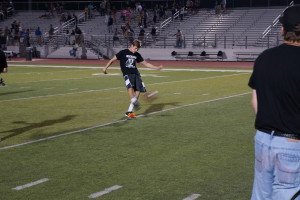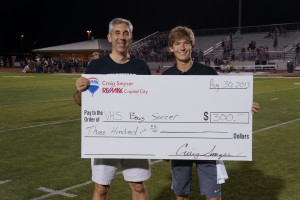 The stands are always filled with activity as spectators weave in and out through one another; always moving, cheering, talking. The last few minutes of the second quarter cause even more commotion than usual. The band prepares and dancers stretch in preparation for the halftime show.
Instead of the marching band, Vision Dance Company, and Legacies taking the field, members from various student organizations line up to get ready to kick for cash. Kicking for Cash is a running tradition sponsored by Craig Smyser with RE/MAX Capital City and organized by the band. During Kicking for Cash a chosen member of an organization tries to make the longest field goal to win money for their school club or organization.
"They did a great job," Mr. Smyser said. "I certainly want to commend those who didn't place because it takes a lot of guts to go out in front of several thousand people and compete in this contest."
Junior JT Lackey placed first with a 40 yard field goal, earning the boys soccer team $300. Junior Ryan Porch placed second and earned the PALS $200. Sophomore Drayton Whiteside placed third, and won $100 for the boys basketball team. Ten other students competed, representing various clubs and organizations.
"JT knew he would win it, he performed and took care of business," head boys soccer coach Chad Aldrich said. "Thank you band for another great fund for soccer."
The boys soccer team will be using their winnings for new workout shorts while the boys basketball team will use their money for new signs in the locker room. Both organizations placed the same last year, however with different kickers.
"I thought Drayton was a fantastic choice for boys basketball," head boys basketball coach Cliff Elis said. "He has played soccer for years and that made it an easy choice."
The coaches or sponsors picked their kickers for the majority of the organizations. However, a few such as choir held their own competitions to decide who would be kicking.
Kicking for Cash raises friendly competition between these organizations and is a fan favorite at halftime, even though they did run out of time this year. Corrections will be made so next year the event will go on as planned within the time allotted.
"I hope everyone, competitors and fans alike, has as much fun with Kicking for Cash as I do," Mr. Smyser said.
About the Writer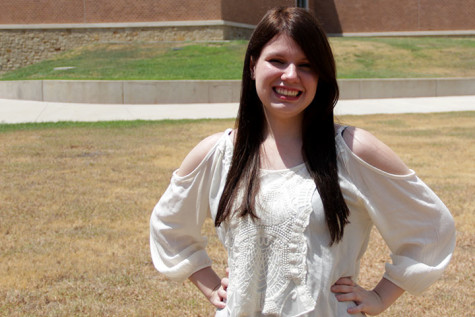 Alaina Galasso, Editor in Chief
Alaina Galasso is a senior at Vandegrift and this is her third year on the newspaper staff. She competes in journalism for Academic UIL and was previously sixth in district for Feature Writing, fourth in district for News Writing, first in district and region for Editorial Writing and second in state for Editorial Writing. She also works as a professional theatre technician outside of school and is an active member of the school's theatre department. She is currently the department's head stage manager but has participated in lighting, run crew and sound since she was a freshman. For her work in theatre she is a 9 star International Thespian and current secretary of Thespian Troupe 7613. She has also been involved in Student Council, the HCEF Inventeam, National Honor Society, Vision Dance Company, AVID and Latin Club throughout high school. She hopes to attend a top university up north and plans on majoring in Theatre Design, Production, and Management with a minor in Creative Writing.