A seasonal project
Senior launches second website to express creativity
She looked through her camera lens, breathing in the sweet summer air. Her friends smiled, supporting her though every step of her work. This was going to be the video that launched her brand new website.
Senior Jenna Rigney started the school year off strong with another website. This summer, she launched her second website, "Project Aesthetic," an online portfolio and gallery to express her creativity through videography, photography, graphic design and writing. She already runs her own blog, "Lifestyle Rant."
"I felt like I was limited on my blog because I could [only] write, and I really love doing videography," Rigney said. "One of my goals at some point is to do wedding videography so I wanted a place where I could continue to be creative all in one place and do more than what my blog has, which is just writing."
Rigney updates "Project Aesthetic" seasonally and works on the website's content every month. Her seasonal posts includes a video, two poems, six or seven pictures, and a drawing that match the aesthetic of the season. 
"I really like to challenge myself because it is hard to combine a lot of different elements and make it work," Rigney said. "I love the challenge to make something look really pretty when it is a bunch of different things."
Rigney said her main reason for creating a new website was because her blog was its own platform and she wanted something separate to express her creativity. Although separate, her audience for "Project Aesthetic" is similar to her blog, being made of teenagers and older people. 
"It blows my mind that she can even do that," senior Katie Zaza said. "Nothing like it has been done before. I mean sure people have made blogs and sure people are Instagram influencers but no one has woken up one morning and said 'I want to go make a virtual gallery.' I have never seen this before. It's just so cool because I have known her my entire life and I have been at the behind-the-scenes of everything."
Zaza was a part of the summer video and is in future videos Rigney is currently working on. She also helps support Rigney's ideas and has been a part of the project since before it was created. 
"I just love seeing Jenna in her element," Zaza said. "I love seeing her do her thing because whenever she makes something or whenever she's like 'okay Katie this is my idea,' before it's even put into place in words, the light in her eyes when she talks about it. You can see how intelligent and happy she is whenever she's doing this."
Along with Zaza, senior Michael Roberts was also a part of the summer video and has been with Rigney since the beginning of Project Aesthetic. 
"It's a great way for Jenna to express herself and for her to become more comfortable with photography," Roberts said. " I've seen Jenna become more professional in her work and really mature in the commitment of it. My favorite part would have to be the way she allows herself to be seen through the project."
Rigney hopes to see Project Aesthetic grow by incorporating larger amounts of information with larger amounts of pictures and videos and poems. She said once she gets the hang of the website logistics and better understands how she is going to reach her audience, she can better gear her content to inspire and communicate her ideas more effectively. 
"The whole project aesthetic, I've always had it," Rigney said. "I've always been a journaler, I've always made collages, and I wanted to display it to the world. So I just I feel like I want to share what I can do and hopefully help someone be inspired or be inspired to create their own things. It's not just private for me."
To Check Out "Project Aesthetic" Visit: https://www.projectaesthetic.com/ 
About the Writer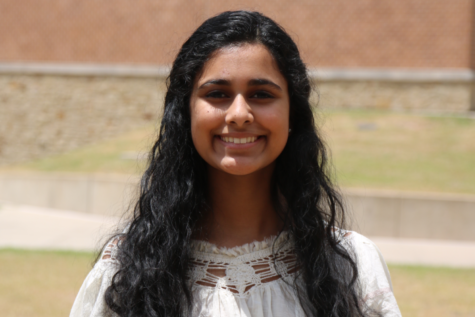 Harshita Avirneni, Spotlight Editor
Harshita Avirneni is a senior and this is her third year on the Vandegrift Voice staff. She joined newspaper because she wants to pursue a career in journalism. Harshita is also involved in UIL journalism, robotics and FCCLA.