Robotics Team Qualifies for Regionals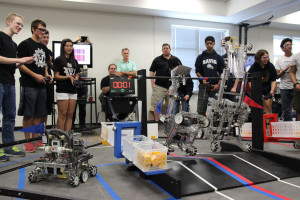 The Viper Robotics team made history this past Saturday when all six Viperbot teams qualified for regionals.
"This is the first time in Texas history that six teams from one school have qualified," junior member Maggie Talbot said.
During the competition the teams started by giving a presentation to two-four judges that score them based on things such as their community outreach, robot design, marketing, document skills, and performance while presenting.  After this the teams competed in a two vs two set-up against another robotics team. After the preliminary rounds the teams took part in final alliance selections. During these the top four teams were allowed to pick two partners to join them in the elimination rounds, in which there will be a semifinal and final round to determine the winner.
"At this competition there were 50 teams divided into two divisions, Lovelace and Telsa," junior Sean Kupec said. "In both divisions we won the final rounds with two of our teams in each alliance."
The Viperbots will attend regionals on Feb. 7-8, where they hope to qualify for Super Regionals, the next step needed to make it back to the World Championship in St. Louis.  
"Were lucky to have such a strong robotics program at Vandegrift filled with such dedicated students. I think with all of our hard work, around 1,200 hours were put in last semester by my team alone, we will be able to make it to the World Competition this year," Talbot said.