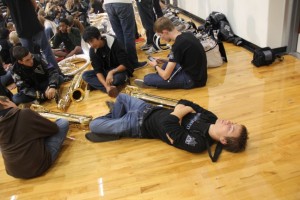 The VHS band, Legacies, cheer, robotics, and several other school and student-led organizations made it to school by 5a.m. last Friday morning to be featured on KEYE TV's "Cool Schools" segment showcasing VHS as the School of the Week.
Alongside the students and organization leaders Friday morning was KEYE's "Cool Schools" reporter, Ashley Miller. This was only Miller's second time covering the school of the week feature, and she already seemed like a seasoned professional who thoroughly enjoys her job.
"The best part is walking into a school and being taken back to high school, watching everyone, and feeling what it's like to be a student," said Miller.
Not only does she enjoy her job as a reporter for this feature, she also sees the value in her segment for the early-morning viewers.
"For the viewers, the most important thing is that they get to see everyone's smiling faces and it starts their day off right," said Miller.
The timing was perfect for the feature of VHS as the school of the week, on the heels of the Viper band placing first at the UIL state marching championship. Representing the band on Friday morning was head drum major, Rhea Adhikary,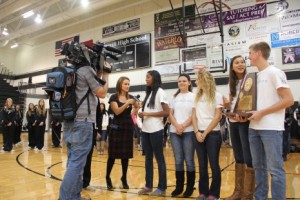 "Spicer chose me [to speak] and I was very honored to represent such a hardworking band program. It's a great feeling," Adhikary said.
With the interview coming so soon after the victory at state, Adhikary was more than enthusiastic in explaining how hard she and her fellow band mates worked to achieve success.
"Any organization going to UIL state is a big deal, and this year, three LISD bands qualified to go. It just shows how hard the district works. The Viper band has been working very hard, constantly working to exceed expectations. It's just very nice to be rewarded for all our hard work," Adhikary said.
Other clubs and organizations like robotics, PALS, student council, and more were also featured on the news segment last Friday. Junior officer Caroline Naples was happy to represent Key Club last Friday and said, "it was a really neat experience and I'm happy I got to share my club with the community,"
Other club speakers included Maddie Smith for cheer, Haley Conroy and Michelle Hoang for student council, Kieran Daly for PALS, Olson Kelly for C2, Romina Montellano for Vision and Nelson Fesas, Jr. for robotics.