Nerf or nothing
In light of COVID-19, students have found extremely creative ways to keep themselves busy and come together as a student body. Juniors Taylor Dimanoff, Riley Weigelt and Griffin Shaffer have put together a competition like no other: Vandy Nerf.
"Nerf is a tournament style competition that takes place at all hours of the day where teams of 5 go head to head each week trying to eliminate one another by using nerf bullets," Weigelt said. "Teams with the most players remaining at the end of the week will move on and face a new opponent the next week until there is a definite winner. Players will register their team by submitting a team name and paying the entrance fee of $25."
The idea sparked from other local schools playing a similar game named "Assassin," but Vandegrift put its own twist on the game.
"Nerf is not new to the area, but just new to Vandegrift," Dimanoff said. "Other schools in the Austin area have played nerf, or similar games like it, for years. After hearing about all the fun this game brings to the schools of my friends, I knew we had to bring it to Vandegrift."
Due to COVID restrictions last year, Vandy Nerf was only able to have one starting meeting before being shut down. But this year, they are back and ready to get started.
"This year the amount of teams has been limited and to be respectful of others, part of the rules state to stay 6 feet away at all times when possible," Shaffer said. "Last year there were a total of 64 teams consisting of 5 people, but this year the amount of teams decreased to 8."
The steaks are high this year. The winning team will get bragging rights and a huge pot style reward.
"Each team member is required to put in 5 dollars each, so 25 dollars from each team," Dimanoff said. "This year our pot to win was 200 dollars and 40 dollars per person. Nerf started the week after spring break, and with 8 teams this year, we are looking at a 3 week tournament."
Any student can play, as long as one person on the team can drive. Restriction zones vary from Vandegrift from 8-5 p.m., airports and churches. Besides the safe zones, teams stay on guard at all times to avoid getting out.
"My favorite experience of playing includes having to wake up at 7 a.m. to go to a competitor's house we were competing against and knocking him out in his sleep," Shaffer said. "We had someone let us into their house and we took him out on the first day of nerf."
About the Writer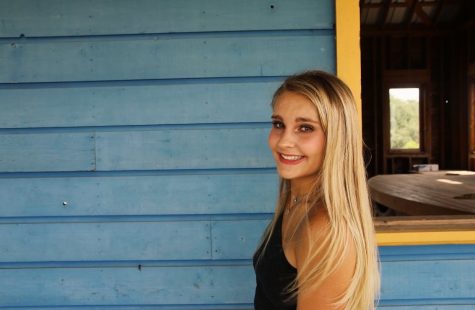 Riley Stinson, Social Media
Riley Stinson is a senior at Vandegrift, and this is her second year on staff. She began journalism sophomore year and decided to take her journalism career further by exploring the newspaper field. Riley loves to play tennis, walk her dog and find interesting restaurants in her free time.