An amazing start to the season and a tournament to remember with so many fun experiences, including breaking many school records. The varsity girls golf team played the Swing 4 the Cure on September 29-30; a competitive tournament consisting of the top 6A and 5A golf teams in the state of Texas. This tournament is a 54-hole tournament played in two days, where we play 36 holes the first day, and 18 holes for the final round. This being my first ever high school tournament, I enjoyed all the experiences with an amazing team and being able to compete with such high-level players.
I woke up the morning of the first round and turned to my roommate, who was a freshman, and I asked her a question that I actually wanted to ask myself, "Are you ready to start your high school golf career?" I was nervous to play my first ever tournament in high school golf with a team and I had no clue what to expect. As I was warming up, I naturally started shivering, but I told myself to just breathe, enjoy the moment and be positive to calm myself down. I saw many people that I already knew from other tournaments, but there were so many people that I had never seen and that made me a little tense. I felt so lucky to have amazing teammates there to calm me down and encourage me all the way through.
After the first round in the morning, I was feeling pretty good with the course, and I was really happy with the way I played, especially since I was unfamiliar with the course. I had played 2 full rounds in a day before, but I had never played both rounds continuously, and had no break in between. Originally, when I heard this from my coach, I was shocked. Although the course wasn't a tough walk, it still felt exhausting to walk for another four and a half hours right away. I tried not to get too tired by consistently eating and drinking water, especially in the last couple of holes. In the end, I really think this helped me to play well in the second round, tying my personal best. Overall, the team did really well in the second round; just like that we broke the 36-hole school record with a total team score of -5. I got to meet and play with marvelous new people, and the day was filled with tons of laughs and smiles. Even though the day was tiring, I had an amazing first day of high school tournament golf.
All of us were exhausted and ready to stretch our legs, so we went straight to the hotel after finishing our rounds. After getting to the room, we just talked for a little bit, and during this trip, I was so grateful to have my first team experience with such an amazing and encouraging team. After watching some TV and taking the time to relax, we immediately went to sleep while thinking about the exciting day we will have in front of us. The team was in the lead by a large margin as everyone had a great day, especially the second round, and we were determined to do our best the next day.
It was a beautiful day for the final round of the tournament and we woke up early, ready to go for the day! We were all pumped with such high and positive energy and although I was nervous for my final day, I completely enjoyed this amazing time with the team, and felt great going into the round. While we were warming up, I was reviewing my game plan and as I was walking up to the tee, I turned around. My uncle and my parents were standing there, ready to watch my final round! I had no clue they would be coming, and I was so excited to see them, and happy they came to watch me play! This took away the nervousness I had for this final round, and I was just focused on playing my best possible.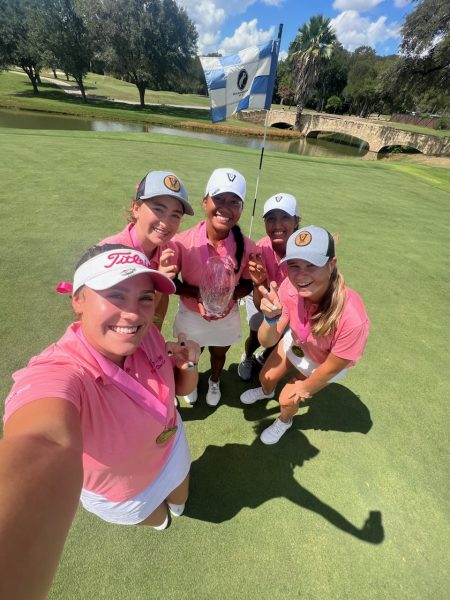 After we finished our rounds, we were pleased with the way we performed; we took home the team win, winning by ten shots. Additionally, I was also able to pull away with the individual win with scores of 69-67-68, breaking a school record of the best 54-hole individual total score and beating some of my own personal bests. Three of my team members finished in the top 10 at a highly competitive tournament and three shot under par scores throughout the three rounds. It was an amazing tournament to play and the perfect way to start the golf season. We broke the school's team 36-hole score record, and the 54-hole score record, being the first time in the school's history to have an under par team total for 54 holes. This was an amazing accomplishment and definitely showed the strength of the team this year. It was a thrilling experience for my first ever high school and team tournament, and I cannot wait for the rest of our season!