Viper becomes a Pirate
Kicker commits to Southwestern University
Southwestern University gained one of Vandegrift's own recently. Varsity kicker, Charlie Fournier, announced his commitment to become a future Pirate in the fall.
"I remember meeting Charlie his freshman year and being incredibly impressed with his willingness to improve in all aspects of his life," Coach Bobby Courtney said. "He has always wanted to be the best he can at everything he does and that desire to better himself has led him to where he is today." 
Although we all know him as our star kicker, Fournier hasn't played football his whole life, but it had to start somewhere.
"I started playing football when I moved to Texas from Minnesota in the summer of 2017. About a week before I officially moved I was at my soccer practice in Minnesota and my coach made a joke 'you have a pretty good leg why don't you go out for kicker since you're moving to Texas'," Fournier said. "At first I took it as a complete joke, but then I talked to my parents about it and we decided it would be a good way to get involved right away."
Coach Courtney has known Charlie since he was a freshman and has coached Fournier all four years of his high school career through soccer. Courtney got to coach Fournier in football his senior year for one last ride.
"When Charlie steps on the field he plays with confidence. The moment he steps off the field he is kind, humble and has a servant's heart," Courtney said. "Charlie is one of the most incredible young men and leaders I have coached. He displays his leadership all with the hopes of serving, inspiring, and equipping others."
Since Courtney knows Fournier so well, he feels he can rest assured knowing the kicker's future will be bright.
"We are all incredibly proud of Charlie and his recent commitment," Courtney said. "He is incredibly talented and had the opportunity to play both soccer and football in college. We are proud of his decision and know he is going to have an incredibly successful college career."
Fournier says one of the upsides of Southwestern is how close it is to home. With Southwestern being right under an hour drive, Fournier can come home whenever he wants.
 "I am extremely excited to have the opportunity to continue to play football and stay close to home," Fournier said. "I can't wait to come back home and see my little brother play football for Vandegrift for the next 4 years. I am incredibly blessed to have this opportunity, but now it's time to get back to work."
About the Writer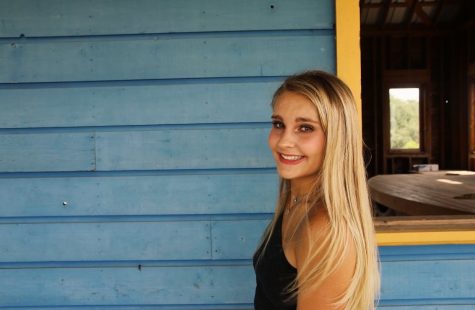 Riley Stinson, Social Media
Riley Stinson is a senior at Vandegrift, and this is her second year on staff. She began journalism sophomore year and decided to take her journalism career further by exploring the newspaper field. Riley loves to play tennis, walk her dog and find interesting restaurants in her free time.