Boys varsity golf places second in tournament
Boys Golf participated in a tournament held at TPC San Antonio and tied for second place. With schools such as Westlake, Highland Park and Trinity Christian competing, the stakes were high.
"I really like going to TPC San Antonio because they host a PGA Tour event," junior Sho Kato said. "I don't get to play often at this course, but when I do it's awesome."
Golf is an individual sport and the players contribute individually combing their points for an overall score. Practice is implemented almost everyday, earning an "off period" to go to the course.
"We have a team practice every Tuesday," senior Colin Slater said. "We practice for two hours all together. Then individually, we practice on our own at our home courses, but it's still with the team because we're practicing with the same players."
When two teams tie for second, they conduct a playoff between those teams to decide who will get second place and who will get third. In this case, Vandegrift and Highland Park, with Vandegrift losing their fifth man, lost the playoff.
"I was happy to get second," sophomore Andrew Tan said. "Westlake has been winning tournaments for the past three years, so of course it was annoying to not be able to beat them, but it was still good to put on the podium."
When planning for a tournament, players and coaches cannot predict the weather. Coach Matt Werneke prepares his players for every outcome possible.
"Coach Werneke tries to make the practice on days that are going to be similar to the conditions that we are predicted for the tournament," Tan said. "We went up a day early to see the course and get used to the type of wind and conditions we will be playing in. Then it was supposed to be a 54 whole tournament, but the weather cut it short to 36, so that was kind of a throw at us."
About the Writer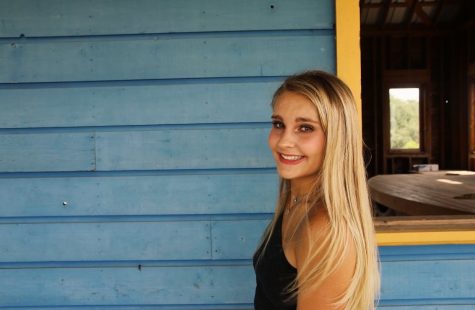 Riley Stinson, Social Media
Riley Stinson is a senior at Vandegrift, and this is her second year on staff. She began journalism sophomore year and decided to take her journalism career further by exploring the newspaper field. Riley loves to play tennis, walk her dog and find interesting restaurants in her free time.